The first day of the RNC's relaunch of its website, GOP.com, has had more than a few stumbles and hiccups -- which Dems have, predictably, gleefully taken every opportunity to highlight.
At best, it has been pointed out, the website has been extremely slow in loading and, at worst, it's been crashing periodically throughout the day. There have also been some content snafus.
Joe Rospars of Blue State Digital and one of the Obama campaign's internet gurus, told Talking Points Memo,
You know your web program is in trouble when your site can't even handle the traffic bump from people making fun of your web program.
Reporters highlighted a rather unfortunate tech glitch: during the first day of the site's launch, when users tried to access a link to the site's "Future GOP leaders" page, instead of seeing a lineup of promising RNC-ers, they were greeted by an error message reading "404 Error: This page could not be found," Talking Points Memo reports. (See screengrab below)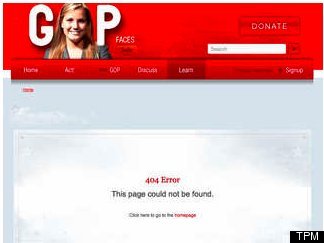 (The "Future GOP leaders" site, which was reportedly left entirely blank for part of the day, has been updated and now contains a call for nominations for future leaders.)
DNC-ers, the New York Daily News writes, have also called attention to the "accomplishments section" -- the most recent "accomplishment" listed is "vouchers for DC schoolchildren in 2004."
The New York Daily News found an additional flub: someone made the mistake of posting some passwords, as well as instructions for how to run new site.
In checking to see who was in the New York State section of the site, (in addition to the other gaffes people have noted) we noticed three members. One was the "rnc-admin."

Curious, we clicked. And there, we found, and downloaded, the

"ForumsAdministrationDocumentation," the "ForumsUserGuide," and the "Admin_Guide," among other things.