If you follow enough of the chatter about social media and tech, you'll pick up on a recurring trend: we love killing things off.
The Wall Street Journal recently declared the "end of email."
A New York Times columnist observed that Facebook "felt dead."
Even the billion-dollar-darling Twitter has the vultures circling: a recent Internet News article asked, "Is Twitter Dead? Who Killed It?" And TechCrunch has been casting a pessimistic eye at its lackluster growth.
In the same breath that we pronounce various types of e-communication media dead, dying, over, or expired, we try desperately to breathe life into "what's next."
Just check out the Google suggestions for the query "what's next after:" Nearly all the results involve tech tools (see screenshot below).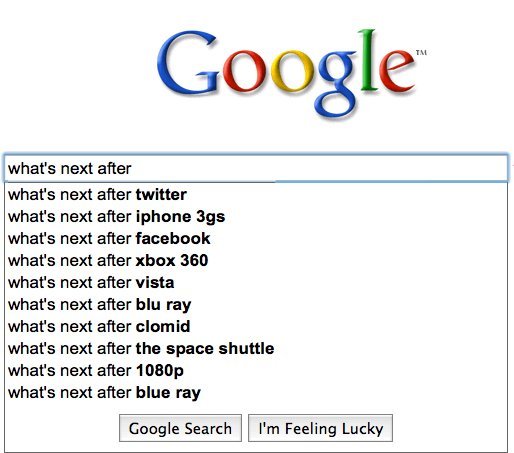 Ning, 12seconds.TV, LinkedIn, and Foursquare (the latter featured in a recent New York Times article) have all been offered up as contenders for the new "it" site, and possible killers of "mainstream" social media.
Sure, we're impatient, and we love being wowed by the next new thing. And of course, tech has always been a space where innovation breeds disruption and the incumbents are never secure.
But declaring one thing "dead" and something else as "it" isn't really how it works in the social media space, where new and old coexist. In fashion, orange may be the new black for the 2009, or "boho" the new "luxe", but loyalties to social media platforms aren't on the same timeline.
Innovators gave us voicemail, then SMS and email, followed by Facebook, YouTube, and Twitter. If you're like us, you still send text messages on the weekends, check voicemail at work, post photos to Facebook, watch viral videos on YouTube, and Tweet your favorite news.
In other words, we haven't "killed off" our previous tools: we're actually adding, not abandoning, platforms. And when we do ditch, it's because of forces more complex than seasonal trends (or the news cycle).
Popularity might wane, but it takes a lot to get rid of something all together, especially given the small niche audiences that may give "dead" sites a second life.
As a Washington Post writer observes,
One wonders if all social networking sites' lifecycles eventually include a David Hasselhoff phase -- snubbed in America, gangbusters in Germany.
What do you think? Have MySpace, Facebook, and Twitter kicked the bucket? Who has? And in your eyes, what's next? Share in the comments below.