Remember those Microsoft ads starring Jerry Seinfeld and Bill Gates as buds? Trying on shoes, eating churros?
Well, it seems Jerry Seinfeld's chummy Microsoft days are over (despite the $10 million he was reportedly paid for the Microsoft ad spot). TUAW broke the news that Seinfeld had been spotted in a Curb Your Enthusiasm episode fraternizing with a MacBook pro. (see the picture from TUAW below)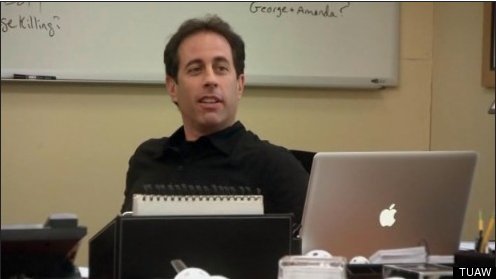 CNET writes,
So to now discover that Seinfeld has appeared on HBO's "Curb Your Enthusiasm" with a MacBook Pro craftily centered on his desk is to experience something akin to a kitchen knife being sharpened upon one's spine by a recently fired busboy.
Check out Seinfeld's Microsoft ad in the video below.
What do you think--forgivable or just plain wrong?

WATCH: