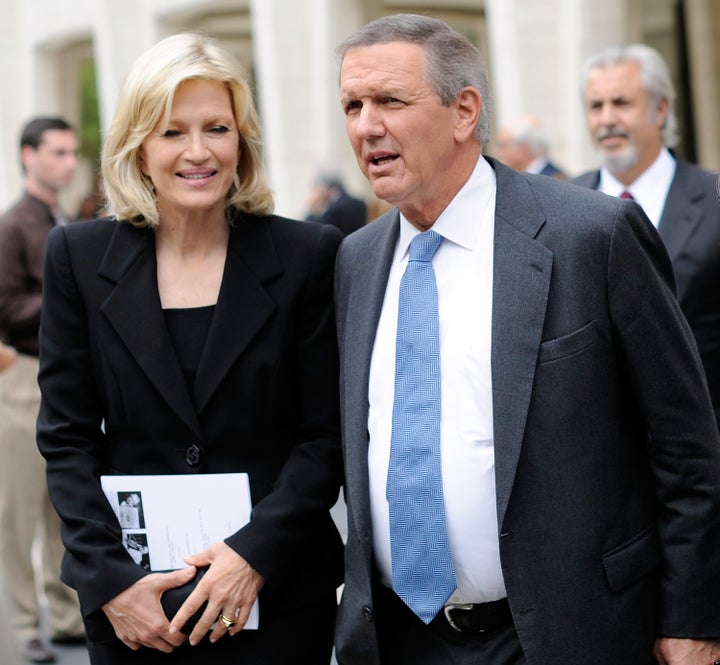 The New York Post's Page Six reports Wednesday on supposed bad blood between Charlie Gibson and Diane Sawyer, and says the outgoing ABC "World News" anchor was "shocked" and "angry" when he found out Sawyer would be replacing him upon his retirement:
"Charlie has always given Diane the stink eye. He bad-mouths her openly and often," said our source.

Gibson, 66, had been pushing ABC News president David Westin to promote George Stephanopoulos, the host of Sunday morning's "This Week," as his successor.

"He wanted George to get the job," said one source at the network. "He was shocked when he learned Diane got it, and he was really angry that she stole his thunder. As soon as she was named, it was all about Diane."
ABC News also dismissed the Page Six report, calling it "bull[bleep]" and pointing out that the pair attended Walter Cronkite's funeral together and had lunch together last month. "They get along just fine," a spokesman said.
Gibson, for his part, told Page Six, "This notion that there is some kind of enmity that exists between Diane and me is just silly. We worked together for over seven years, side-by-side . . . We laughed together, cried together (particularly during the time after 9/11), and developed a strong mutual bond. I have tremendous respect and fondness for Diane. Diane and I have talked a number of times about the transition and what this job entails. We're having lunch this week to continue the conversation."
The Page Six claim that Gibson wanted Stephanopoulos to replace him and was "shocked" when Sawyer was announced doesn't mesh with ABC News President David Westin's account of the timeline. Westin has said he told Gibson from the moment the subject of retirement was broached that Sawyer would likely be his successor.
"I certainly expressed to him my view it was quite likely that Diane would be the successor," Westin said at the time.