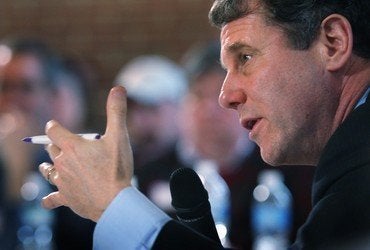 Despite carving out a niche for himself as a leading progressive voice in Congress, Senator Sherrod Brown (D-Ohio) rarely goes in for headline-grabbing proclamations or sharp political rhetoric.
So on Sunday, when Brown stated his concern that some of the president's economic consultants were too focused on Wall Street at the cost of small business, it hardly seemed like some flippant remark.
"I think the president is [focused on Main Street]," Brown told CNN's "State of the Union." "I think the vice president is. I think the advisers are mixed."
The Ohio Democrat was responding to a handful of House members -- Democrats and Republicans alike -- who this past week had criticized Timothy Geithner for mishandling the bank bailout and failing to spur small business lending. Those members have called for the Treasury Secretary's resignation in light of these perceived failures.
Brown, by contrast, took the time on Sunday to offer encouragement to Geithner for finally turning his attention to these issues.
"I was with Secretary Geithner at the Treasury Department this week [for] a small business summit: Senator [Mark] Warner and I with a bunch of small business people, Karen Mills -- the administrator of SBA -- and Secretary Geithner. And I took him aside and said we need more focus on manufacturing, we need an industrial policy. Manufacturing creates middle class jobs and there has not been a manufacturing policy in this country for forever, really. Former presidents haven't had it. President Obama is moving in that direction. I think they've turned a corner. I think particularly next year, the focus is all about creating jobs. And I think we will begin to see changes."