Vartan Altounian has a simple question: Why did Bank of America hit his checking account with two $35 overdraft fees on Dec. 17 if his balance summary shows that his account never went negative?
Altounian, a 55-year-old auto tech line specialist who lives in Canyon Country, Calif., said he cursed Bank of America to the heavens when he saw the statement. When he called a customer service line for an answer, he was told that there was no mistake.
"Why can't I see why you took my money?" he recalled asking. They simply confirmed that they'd taken his money and said it was clear on their end that he'd overdrawn his account. "They go, 'Mr. Altounian this, Mr. Altounian that.' You took my $70! Why can't I see what you see?"
He got the same response when he went to his branch in Los Angeles to complain in person. Bank of America, it seemed, had simply taken 70 bucks without even bothering to try to justify it.
Here's what Altounian's balance looks like for the relevant days: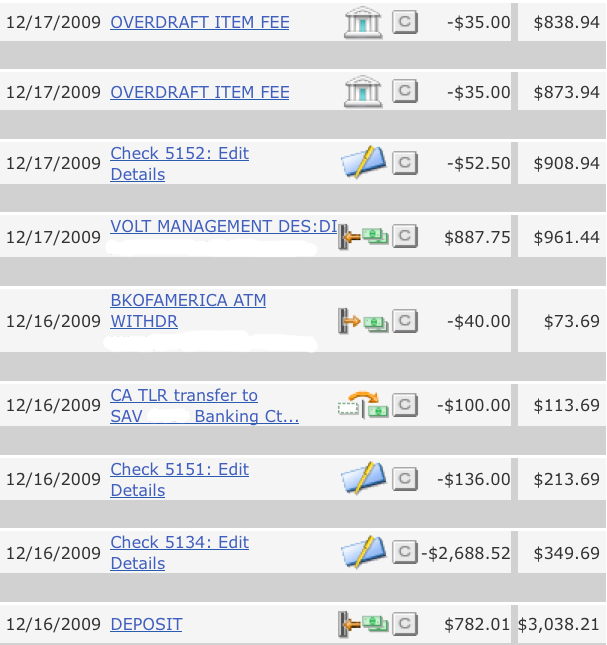 It turns out that the bank took Altounian's money in accordance with its established policies for taking people's money. While it appears that Altounian had $73 at the end of the 16th, he actually didn't -- he'd overdrawn his account. But nobody within the bank could explain to him what happened.
After a reporter explained the situation to Bank of America on Thursday, Altounian received a call at work. He said a bank rep explained that three charges that posted on the 17th were from the 16th; they'd been held. A close reading of the somewhat confusing "details" column on his printed statement (which he shared with HuffPost) shows that the description of each of the three charges contains an earlier date: 12-16.
Bank of America doesn't comment on individual customers, but a spokeswoman explained to HuffPost that at the time of purchase a "hold" may sometimes be placed on an account for sums that are debited later. From the fine print:
Purchases made with a Bank of America Visa® debit card where you swipe your card without entering your PIN, select "credit" to complete the transaction, or sign a sales receipt or signature pad for the purchase may not be immediately sent to the bank. Instead, they may take 2 to 3 days to be received, processed by the bank, and posted to your account. In these situations, be aware that the merchant may request an authorization and the bank may immediately reserve or place a hold on the equivalent amount of funds in your account to be sure there are sufficient funds to pay the debit when it's received.
For his trouble, and because he's been a good customer, the Bank of America rep told Altounian he'd be getting his $70 back. Altounian said he asked the rep if he was wrong for getting upset.
"He said, 'I would feel the same way you did,'" Altounian said. "How is the average person supposed to understand this?"
Aside from calling the customer service line on the back of your card, Bank of America recommends its customer-service Twitter page and chat features within the main site, where they've also deployed a walking, talking avatar to address questions about fees.
Altounian said he'd heard of Arianna's "Move Your Money" campaign but just didn't have the energy to close his accounts and redeposit his money with a community bank or credit union -- a classic case of inertia due to "switching costs." He sums it up pretty well:
"Screw this bank," he said. "But it's convenient. They're everywhere. That's why I stay with this bank."
HuffPost readers: Strange overdraft fees? Tell Arthur about it.