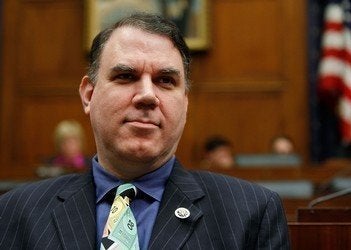 As members of Congress begin to report their fourth-quarter fundraising totals, here's a number that will pop a few eyes: $850,000.
That's the amount raised by Rep. Alan Grayson, the freshman Florida Democrat dubbed a "wing-nut" by the New York Times - he set a record on November 2 when his "money bomb" raised $514,000 in one day.
He now has roughly a million dollars in cash on hand for his reelection campaign.
Grayson says that money came in small contributions, averaging roughly $35 a piece, from more than 10,000 donors.
"The main thing is that it's clean money," Grayson told HuffPost. His ability to raise a substantial sum from a small and broad base of donors holds the potential to change the way campaigns are run and Congress operates, Grayson said.
As it stands, Democrats in Congress spend much of their energy raising funds from interests that are often opposed to the tenets of the Democratic platform. In the House, the Financial Services Committee is stacked with vulnerable freshmen and sophomores from conservative-leaning districts put there to raise money.
Grayson is one of 11 such freshmen, but he broke ranks with the rest of them and consistently opposes Wall Street on the committee.
Freed from the need to raise money from them, Grayson can vote however he wants -- which is a novel concept in Congress.
Most of his colleagues spend much of their waking time raising money. "If they could instead turn to people and have people power their campaigns -- not only with money, but with telephone calls, with canvassing, the way that we did in 2008 in the district -- then you've created a whole new paradigm of government, government that is no longer dependent upon the power of lobbyists," he said.
As a candidate for President, Barack Obama first showed the potential power of a broad donor base to reshape a campaign. Twelve million people signed up to be involved with his campaign.

"If each one of those 12 million people gave 35 dollars, you'd be talking about 420 million dollars. That's enough to run every congressional campaign in the entire country. And it would be clean money," said Grayson.
Unfortunately, Obama has shown little interest in using his donor base to reshape Congress, says Grayson. "He hasn't shared it with any of us," he said.
Not that members of Congress aren't hungry for those funds -- hearing of Grayson's money bomb, more than two dozen of his colleagues, he says, have approached him and asked how he went about doing it, both politically and practically.
The typical member of Congress does not enjoy fundraising, which involves humiliating groveling, early morning breakfasts and an endless diet of rubber chicken. If the alternative was a broad, independent base of donors that contributed online, most would jump at the opportunity. But they're scared to make the leap from here to there.
"What this shows is that people like a congressman with guts," Grayson said. "We didn't raise that money over a single issue. We raised it around a new approach to the job and to politics, which is that people who are progressive should stand up and fight for what they believe in."
Grayson's success was mocked by the GOP.
"Alan Grayson is right -- he doesn't rely on lobbyists for campaign money," says Andy Sere, a spokesman for the National Republican Congressional Committee. "Instead, he degrades the dignity of his office and routinely embarrasses Central Floridians so that he can ply large amounts of cash from ultra-left-wingers looking for a hero and revel in the attention he so desperately craves. What's worse?"
The former may be worse. Relying on lobbyists leaves politicians beholden to their benefactors, which can cause real harm to constituents beyond alleged routine embarrassment. Indeed, the financial crisis, wrought in no small part Wall Street lobbyists pushing deregulation, has left the Orange County area, the heart of Grayson's district, in ruins and it ranks in the top ten nationally in foreclosures.
Lobbying pressure can also leave little time for legislating. For a first-term congressman, Grayson got a lot done this year. He was the first freshman to pass a bill through the House -- a measure clawing back bonuses paid with bailout money.
Along with Rep. Ron Paul (R-Texas), he shepherded a provision that would open the Federal Reserve to a real audit for the first time in its history.
"I think the public got its money's worth out of us this year," he said. "It took literally three weeks to line up more than 300 cosponsors for the Audit the Fed bill. We had to go to individual congressmen... Accomplishing it was a function of having the time to do it and follow through on it."
While his colleagues would more than welcome an influx of online donations, some are skeptical if they'll be so fortunate. "I'm sure if it was possible on a grand scale everybody else would have done it by now. I mean, it's very hard for every candidate to try to do that," said Rep. Chellie Pingree, a progressive freshman Democrat from Maine with a significant online following. "I think all of us have tried to use more online funding where we can, and certainly it was a big help in my last campaign."
Pingree pointed to the online advocacy group MoveOn.org as one example of a successful effort to fund campaigns with small donations, but said that it has yet to translate into a transformational movement. "That is what organizations like MoveOn and other progressive organizations have done for candidates, but it's hard to get it out there for everybody who has to raise money," she said. "Generally that works with a few high-profile people around a few high-profile issues, but it's very hard to sustain with the whole Congress or even with a whole voting bloc, like all of the progressives."
Pingree said that the way to fundamentally change the way things work is to allow for public financing of congressional campaigns. "That's really the way to get people off the phones all the time and back to legislating," she told HuffPost. Grayson, too, is a backer of public financing.
In the meantime, said Grayson, he'll continue working with other Democrats to broaden the small donor base and loosen K Street's grip on Congress. "We're exploring, with the help of many people all through the country, a new model for what it means to be a congressman," he said.