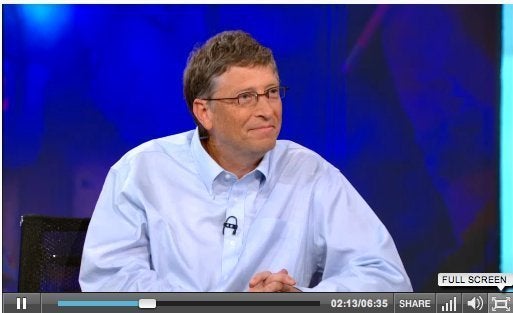 This time around, Stewart, who joked he was disappointed that Gates wasn't going to bring him a car, probed Gates' recent foray in Twitter, robots 'that can love,' and Gates' work of the Bill and Melinda Gates Foundation, which Gates says is "as much fun as any job I've ever had."
Gates discussed his decision to start tweeting earlier this month. "The idea is to take things I'd send email on--where I've met an interesting scientist, or been on an interesting trip--and just take that and put it on that format," Gates explained. "I'm new to it. So far, so good."
"No topless photos," Stewart warned, "I don't want to see that."
There was, of course, the requisite Mac vs. PC barb, Stewart asking Gates, "You feel unburdened now not having to deal with Microsoft? Now you can have an iPhone? Do all the things you could never do before?"
Gates retorted, as was to be expected, "I'm a very loyal Microsoft user."
The Microsoft chairman managed to poke fun at Stewart before the end of the segment. Stewart queried the tech guru, "Do they have robots that can love now? Will that happen?" to which Gates, replied, "Love who? Love you? Now that's asking for a little too much."
See the Daily Show interview from last night below, as well as Gates' 2007 interview with Jon Stewart:
Full Episodes
Full Episodes