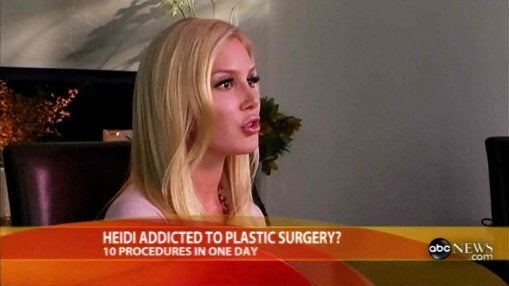 Heidi Montag's mom, Darlene Egelhoff, not only was supportive of her daughter's plastic surgery transformation but will be undergoing her own as a Mother's Day gift, Heidi told 'Nightline' Tuesday night.
Last week People reported that Darlene was "horrified" and "having a total breakdown" over Heidi's ten surgeries. Not so, Heidi tells 'Nightline.'
"She says, 'Whatever makes you happy,'" Heidi said. "And 'Great,' and, 'I could definitely see your boobs looking incredible bigger,' and you know, my mom's very ... supportive about whatever makes you happy in life."
Heidi's surgeon refuses to do any more procedures on her, but the reality star is hoping she can convince him to work on her mom.
"Actually, she was excited for me and she's asking me ... for her surgery next," said Heidi. "So for Mother's Day, I have to ask Dr. Frank Ryan if he'll do the mommy makeover."