Jasmina Anema, the 6-year-old leukemia-sufferer who met with President Obama, passed away Wednesday night. She was admitted to the hospital with pneumonia in both lungs and became feverish and short of breath.
Jasmina was first diagnosed with the disease last January. Her battle against an aggressive strain of natural killer cell leukemia gained attention when articles in the New York Daily News led to singer Rihanna championing her cause. The number of bone marrow donors went up and a match was found, but unfortunately, Jasmina's leukemia returned in September.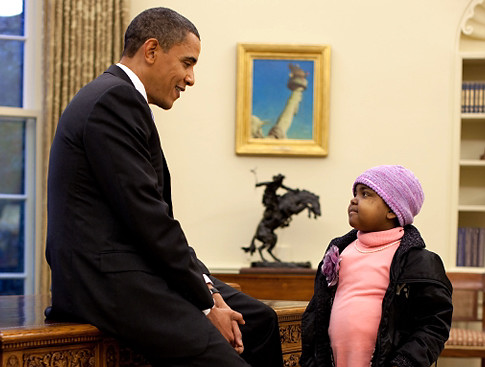 (Photo by Pete Souza/The White House)
In December Jasmina was invited to the White House to meet Obama. In response to news of her death, the president released the following statement:
It is with great sadness today that Michelle and I extend our condolences on the passing of Jasmina Anema. Jasmina showed tremendous bravery in the face of adversity, and her ability to stay positive throughout her battle was an inspiration to me and to all those she touched. As the parents of two young girls, our hearts particularly go out to Jasmina's devoted mother Thea. Our thoughts and prayers are with her and with all who knew and loved Jasmina.
Writing on her blog, Jasmina's mother wrote, "Jasmina had a wonderful life and we thank each and every person who showed kindness and love over the years. Your endless support through this entire process has been invaluable."
The Daily News profiled her ahead of her presidential visit: