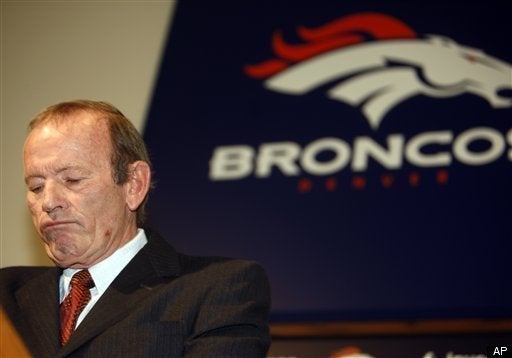 Update: Broncos' Chief Operating Officer told the Denver Post "The team is not for sale. The rumor is false."
As the St. Louis Rams announced the sale of their franchise Thursday, the NFL rumormill heated up with speculation that the transaction may end up in an ownership change for the Denver Broncos.
First reported by Mike Florio at NBC's Pro Football Talk blog, the rumors involve Stan Kroenke, Denver native and owner of the Nuggets and Colorado Avalanche.
Kroenke also owns a 40% minority share in the Rams. The AP reports that the majority owners of the Rams have agreed to sell their stake in the team to Illinois businessman Shahid Kahn.
While no official announcement has been made regarding Kroenke's share, speculation around the NFL is that he may sell his shares in the Rams, and use his cash from that transaction, as well as some of his wife's Wal-Mart fortune, to buy his hometown Broncos from current owner Pat Bowlen.
Bowlen, 66, has owned the team since 1984, but reports have recently circulated that he is suffering from short-term memory loss.