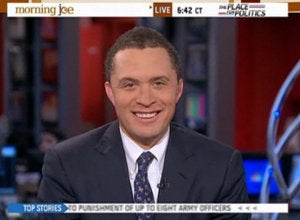 Harold Ford Jr.'s role as an NBC political analyst has been "put on hold."
Politico's Michael Calderone reports that, according to an MSNBC spokesperson, Ford's NBC contract "was put on hold" weeks ago. His appearances on the network are now in the capacity of potential political candidate.
Ford is mulling a run for Senator against Kirsten Gillibrand in New York.
"Now I've taken a 45-day unpaid leave of absence from my job at Merrill Lynch," he said recently. "It's not right to draw a salary when I'm out every day campaigning. Fortunately, I've still got a little NYU teaching job and some MSNBC, so for a while I think I can put food on the table."
Ford will appear on the "Meet the Press" roundtable this Sunday, along with David Brooks, Rachel Maddow, and Republican freshman congressman Aaron Schock.
"Harold Ford asked for the leave of absence from NBC as a paid analyst while he weighs a run for the U.S Senate. Consistent with that, he also asked for an unpaid leave of absence from Bank of America/Merrill Lynch while he travels the state, listens to voters and weighs an opportunity to serve them in the Senate."