A round-up of the big winners and losers from around the City and State. Be sure to vote for this weeks big winner, and then check out this week's losers.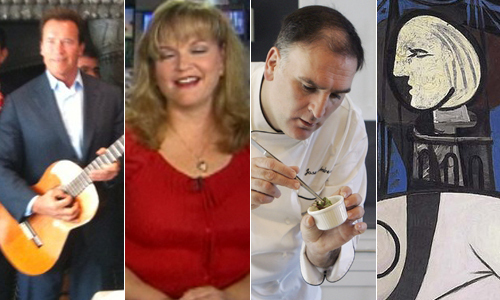 Arnold Schwarzenegger
The Governor was handed a big victory early in the week, with a court ruling allowing him to continue the practice of raiding local redevelopment funds to balance the state budget. He was quick to respond to the Louisiana oil spill catastrophe by reversing his support of offshore drilling in California waters, and still found time to share with the world a very special message of hope on Cinco De Mayo.
Jose Andres
Celebrity chef and culinary phenomenon Jose Andres had a huge week, starting with his appearance on last Sunday's 60 Minutes, in which he shared his culinary philosophy with Anderson Cooper and the world. This week also saw the announcement of two new Andres restaurants this year in Las Vegas, in addition to his wildly popular Bazaar at the SLS Hotel and 7 other restaurants nationwide.
Jacki Wells Cisneros
An employee in the KNBC newsroom, Jacki Cisneros purchased the winning Mega Million ticket for a jackpot of $266 million. The timing was particularly good for Cisneros as her husband was laid off a few weeks ago. She has stated that she intends to keep her job. We shall see.
The Huntington Library
The biggest beneficiary of the record breaking $106.5 million sale of Picasso's "Nude, Green Leaves and Bust" may be Pasadena's Huntington Library. It is not yet known how much of the $225.9 million raised at the sale of Frances Brody's art collection it will receive, but according to the library "it could be the largest cash gift ever received by the Huntington."