New York is full of winners... and of losers. Each week HuffPost New York will be praising those who ended up ahead and calling out those who fell behind. Check out this week's WINNERS below, and the LOSERS here.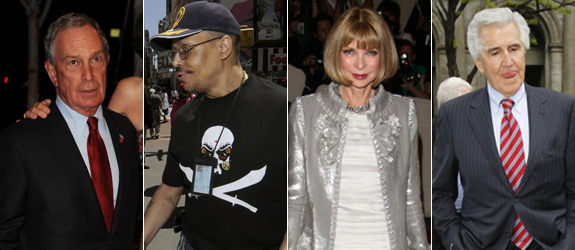 Mayor Bloomberg
After a car bomb nearly took out part of our fair city, tough-talking Bloomberg marched down to DC to knock some "common sense" into the politicians who refuse to close the "terror gap" and give New York it's fair share of federal anti-terror funding. He didn't seem to make much headway, but managed to make many a senator look the fool.
Lance Orton
The t-shirt vendor saved the day on Saturday by calling attention to a smoking SUV in Times Square, grabbing cops before the car could explode (though we know now it probably never would have). Still, the grizzled Vietnam vet proved that the slogan "If you see something, say something" really works.
Anna Wintour
The Vogue editor cut loose with a room full of celebs at Monday's Met Costume Institute Gala. The generally staid Wintour was photographed breaking it down with Diddy while the likes of Oprah, Katy Perry, and Pharrell looked on.
Joseph Bruno
How can a man sentenced to two years in prison be a winner you ask? Well not only because he got the incredibly low-end of the sentencing scale (prosecutors had pushed for 8 years), but with the US Supreme Court waiting to rule on a trio of cases that could overturn his conviction and the possibility of endless appeals, the 81-year-old Bruno has every reason to believe he'll die a free man.