We'll have to wait and see how well the United States men's soccer team fares now that they are in the knockout stages of international competition at the World Cup, but if there's one thing we can all take pride in is the fact that we are the Champions of Health Care! Top prize goes to the system that best combines mediocrity with stratospheric costs, right?
No? Well, that's bad news then, because according to a new study by the Commonwealth Foundation Fund that relieves health care reform proponents of having to cite outdated statistics from the World Health Organization, that's precisely the sort of health care we have. And it's all been rendered in handy-dandy chart form: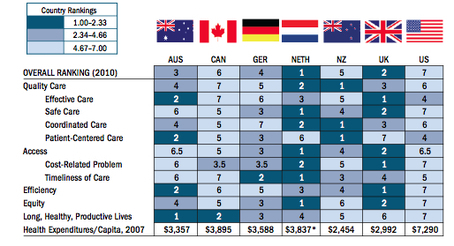 Ezra Klein notes: "The issue isn't just that we don't have universal health care. Our delivery system underperforms, too. 'Even when access and equity measures are not considered, the U.S. ranks behind most of the other countries on most measures. With the inclusion of primary care physician survey data in the analysis, it is apparent that the U.S. is lagging in adoption of national policies that promote primary care, quality improvement, and information technology.'"
Nonetheless, I expect no abatement in the tendency of anti-health care reform wags to bleat, "Bu-bu-but, the United States has the best health care in the world!" That's true, in the same way that José Andrés's Minibar has the best molecular cuisine in Washington, DC -- if your life depends on having it, you'd better have the financial security of Ezekiel Emanuel and Antonin Scalia.
Read the full report by clicking here.
[Would you like to follow me on Twitter? Because why not? Also, please send tips to tv@huffingtonpost.com -- learn more about our media monitoring project here.]