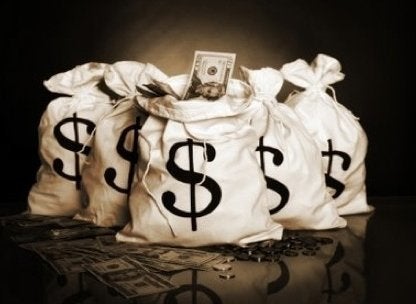 It now appears almost certain that there will be a special election for Illinois' U.S. Senate seat simultaneous with the general election on November 2. What this could mean, aside from a major headache for the State Board of Elections and a confusing ballot for voters, is a fundraising bonanza for the major party candidates.
If Alexi Giannoulias and Mark Kirk are put on the ballot as the Democratic and Republican nominees in the special, they could raise money from currently maxed-out donors, supposedly for that election. It essentially means a doubling of the maximum donation to each candidate.
The reason for the special election is an appellate court ruling issued by the Seventh Circuit Court, stating that Roland Burris' appointment to Barack Obama's Senate seat must be temporary. According to the Seventeenth Amendment, the Court ruled, voters must have a chance to elect a Senator's replacement as soon as possible.
In Illinois, given that the ruling came down in June, the state won't be able to mobilize the resources needed to hold an election before November 2, when the general election is already scheduled.
So Burris' term will end in January of 2011, with the swearing-in of the winner in the general. But for the months between November 2 and that inauguration, he will be replaced by the winner of the special election held on the same date.
According to Judge John Grady, who is presiding over the lawsuit that is prompting the election, the state party leaders will choose the candidates in the special election, rather than trying to squeeze in a special primary -- an irony, given that the point of the election is to allow the people and not politicians to choose their Senator. The Chicago Sun-Times reported Grady's decision.
But that means it's likely that Giannoulias and Kirk will be on the ballot in the special as well as the general. And with each man running in two separate elections, that means donors will be allowed to give the maximum contribution twice.
While some contributors have already given the maximum $2,400 to either Kirk or Giannoulias for the midterm campaign, they would be able to pony up thousands more, ostensibly for the separate special election, Federal Election Commission spokeswoman Julia Queen said.

"It's separate from just the primary and the general," Queen confirmed.

Thus far, fundraising has been more of a struggle for Giannoulias than Kirk. The Democratic state treasurer trails his Republican opponent nearly 4-to-1 in cash in hand, and was badly out-raised in the most recent fundraising quarter. Kirk brought in $2.3 million, while Alexi raised just $900,000. An August 5 visit to Chicago by President Obama might change Giannoulias' luck.