Facebook has just started rolling out a new feature called "Facebook Questions," a Q&A service that lets members ask and respond to questions posed by others on the site.
Facebook introduced "Questions" in a blog post on the social network:
Millions of people ask their friends questions on Facebook every day. What new music should I listen to? Where's the best sushi place in town? How do I learn to play the piano?

Today we're introducing Facebook Questions, a beta product that lets you pose questions like these to the Facebook community. With this new application, you can get a broader set of answers and learn valuable information from people knowledgeable on a range of topics.
If you can't see it yet--don't worry: Facebook says the new service is only available to a "limited number of people" (about 1 percent of users, according to CNET) as Facebook intends to improve the Q&A service based on the initial feedback.
Facebook Questions is entering an increasingly crowded space, with sites like Quora, Yahoo! Answers, Ask.com, and Aardvark already inviting users to question and answer on their websites. So what's so special about Questions (in addition to the 500 million users it immediately has access to)? According to Mashable, Facebook Questions' "defining features" include: Photo questions; polling; tagging; topic exploration; and "following."
Something else to note before you try the Q&A service: all questions are public and no question can be asked anonymously. As CNET notes, "When you ask a question on Facebook, you're asking it to the world."
Here's a screenshot of what the new "Status Update" toolbar looks like:

A look at the questions that have been posed thus far: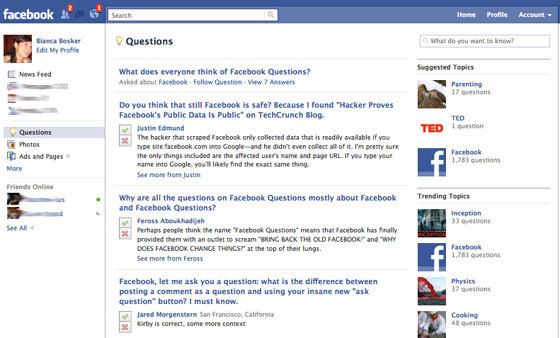 How you answer a question: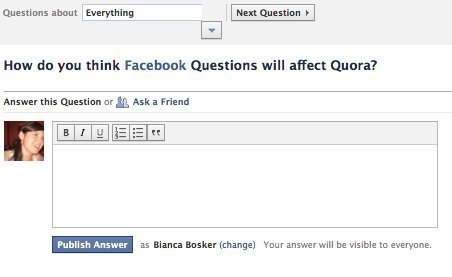 What do you think? Weigh in below.