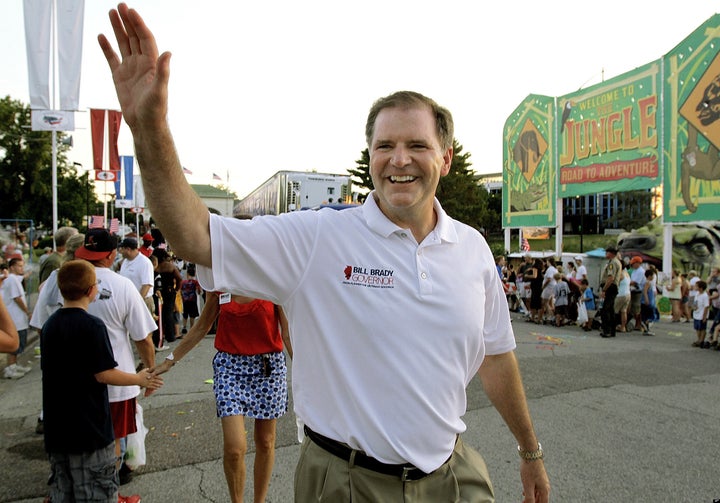 On Labor Day, President Obama made an impassioned plea to progressives--hoping they will vote in the midterm elections and avoid giving Republicans "the keys back." In Illinois, however, Republicans are looking to take the keys for the first time in a long time.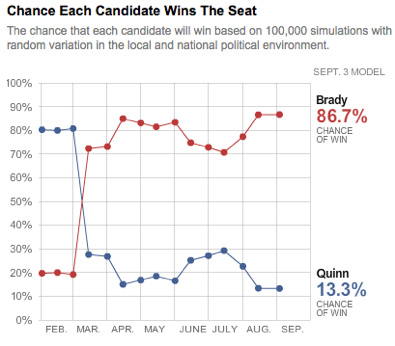 As for how the state will vote, Silver predicts that Governor Pat Quinn will take 44 percent of the vote and Brady will receive 51.5 percent.
"Silver's prediction for the Illinois governor's race is gonna give lots of Democrats a bad case of heartburn," Rich Miller of the Capitol Fax blog wrote Wednesday.
Silver's predictions for the Senate race are a lot closer--but still bad news for Democrats: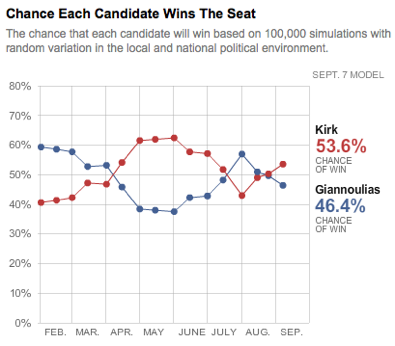 Republican Mark Kirk and Democrat Alexi Giannoulias have been neck and neck in recent months--and Silver predicts it will stay that way through November. He believes Kirk will receive 48.7 percent of the state vote on election day, and Giannoulias will receive 48.2 percent.
Silver correctly predicted the winner of 49 of 50 states in the 2008 presidential election, and has gained national and international recognition for the accuracy of his predictions in sports and politics.