A slow weekend for new campaign polls puts one uncertainty to rest: After yielding closer results in late September, two new polls now show Democratic Senator Kirsten Gillibrand and Democratic gubernatorial nominee Andrew Cuomo leading their Republican rivals by comfortable margins.
In the special Senate election for the New York Senate seat previously held by Secretary of State Hillary Clinton, a new SurveyUSA automated poll gives Gillibrand a 19 point lead (54% to 35%) over Republican challenger Joe DioGuardi. The latest live interviewer survey from Quinnipiac University released on Friday puts Gillibrand ahead by 21 points (55% to 34%).
Three weeks ago, two polls by the same organizations captured national attention when the results suggested a much closer race, in contrast to other New York pollsters. Quinnipiac showed Gillibrand leading by six points; SurveyUSA by just one.
The two earlier polls also found a similarly narrowing race for governor following the surprise primary election victory of Republican Carl Paladino, but their latest soundings now show Cuomo crushing Paladino by huge margins. SurveyUSA has Cuomo leading by 23 points (57% to 34%), up from a nine-point margin (49% to 40%) just after the primary. Quinnipiac now puts Cuomo ahead by 18 (55% to 37%), having shown him leading by just six points (49% to 43%) three weeks ago.
Both pollsters portray their latest results as evidence of a Democratic rebound. "Democrats are surging in all New York statewide races," reports Quinnipiac. "Paladino's 15 minutes are over," SurveyUSA declares, attributing the change to an intervening "week in which Paladino made a spectacle of himself." They add that Gillibrand's support "was eerily suppressed" on the previous survey, "but that was then and this is now."
Was the apparent difference about changing voter preferences or a large, momentary shift in the kinds of voters that appeared "likely" to vote? SurveyUSA gave Democrats a nine-point advantage (44% to 35%) on party identification among the "likely voters" they interviewed in mid-September poll. That margin grew to 19 points (49% to 30%) on the new survey. Paladino may have had a bad week, but it most likely did not cause a party realignment among New York voters. A better explanation is that Republicans were more likely than Democrats to report an interest in the election in the immediate aftermath of the Republican primary, a pattern that skewed the poll of "likely voters" selected on both mid-September surveys.
Whatever the explanation, our standard trend lines, which tend to ignore outlier results by design, show Gillibrand leading DioGuardi by roughly 13 points (52.9% to 39.8%), a margin that has narrowed slightly since the summer and easily merits a "strong Democrat" designation.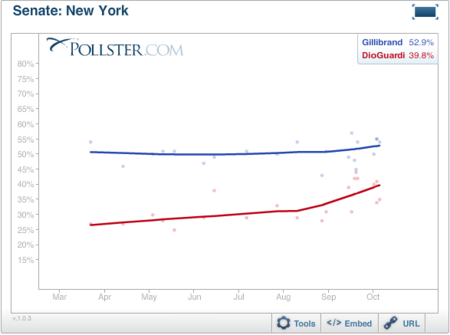 Elsewhere, a new Rasmussen automated survey in Washington shows Republican Dino Rossi with four-point advantages over Democratic Senator Patty Murray (49% to 46%). Five of six independent Washington surveys conducted in September showed Murray with margins of between one and nine percentage points, but a Rasmussen poll last week showed Rossi with a one-point edge. Our trend estimate now shows a near dead heat (48.2% Murray, 47.3% Rossi).
Washington, Nevada and Illinois are the three Senate races we rate as "toss-ups." Republicans can win a Senate majority by carrying all three plus the other states where their candidates are currently leading.