Is Carly Fiorina "closing in" on Senator Barbara Boxer in California? That's the conclusion some draw from a new Reuters/Ipsos poll in California, although its small sample size prevents a definitive answer. Elsewhere yesterday's new Senate surveys confirm a close race in Nevada, a narrow Democratic advantage in Washington and a Republican lead in Missouri that may be closer than many assume.
The new Reuters/Ipsos California survey, released over the weekend but actually fielded in the middle of last week, shows Democrat Boxer at 46% and Republican Fiorina at 45%. Ten days earlier, Ipsos gave Boxer a four-point lead (49% to 45%), but both surveys involve samples of fewer than 500 interviews. As such, the apparent three-point decline in Boxer's support is not large enough to attain statistical significance -- it falls well within the more than four-point margin of error for each Ipsos poll.
In contrast, a Rasmussen automated survey, conducted at the same time but released last week, gives Boxer a three-point advantage (49% to 46%), not significantly different than Rasmussen's two prior surveys that each showed Boxer leading Fiorina by 4 points.
The addition of the Reuters/Ipsos poll to our chart narrows Boxer's margin on our standard trend estimate to four points (48.3% to 44.3%), just large enough to remain in our "lean Democrat" category. The more sensitive estimate, which gives greater weight to the two newer polls, narrows the margin slightly to two-and-a-half points (47.8% to 45.3%).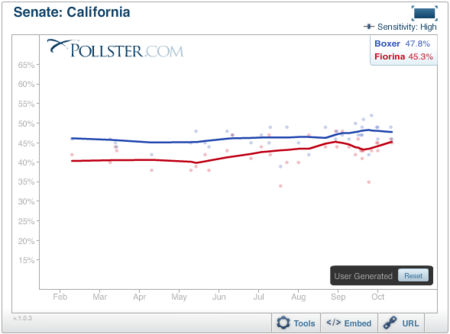 The Reuters/Ipsos survey also suggests a slight narrowing in the race for Governor, showing Democrat Jerry Brown leading Republican Meg Whitman by four points (48% to 44%), again slightly but not significantly lower than the seven-point advantage on their previous survey ten days earlier (50% to 43%). Last week's new Rasmussen poll gives Brown a six point lead (50% to 44%). Ipsos began interviewing on the night of the final Brown-Whitman debate. Rasmussen fielded their survey the next day.
The two newer polls have little effect on our standard trend estimate, shown below, which gives Brown a roughly four percentage point lead (48.2% to 44.1%). Brown's advantage on the more sensitive estimate is slightly larger (49.7% to 43.4%).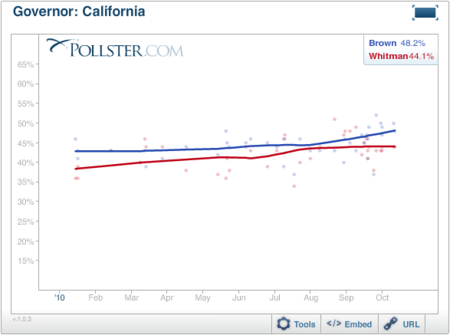 In the Washington Senate race, another new Rasmussen automated survey conducted on Sunday gives Democrat Patty Murray a three-point advantage (49% to 46%) over Republican challenger Dino Rossi. Another automated poll conducted last week by SurveyUSA gave Murray a similar three-point margin (50% to 47%).
The two automated pollsters find narrower margins than recent live interviewer surveys conducted by CNN/Time, the Elway Poll and the University of Washington -- a pattern we have observed in Washington since the summer. Whatever one makes of those differences, the last five independent polls all show Murray with at least a nominal lead. Murray's advantage on our trend estimate remains at roughly four percentage points (49.3% to 45.2%), still in our lean Democrat classification.
In Nevada, yet another new Rasmussen poll gives Republican Sharon Angle a three-point advantage (50% to 47%) over Democratic Senator Harry Reid. That's slightly worse margin for Reid than Angle's one-point edge on their last survey but, slightly better than the four-point margin they found two weeks ago. Still, of nine public polls released so far in October, only Suffolk University and the Democratic firm Public Policy Polling (PPP) have found nominal Reid leads (though five of the nine were conducted by Rasmussen or their subsidiary Pulse Opinion Research). Our standard trend estimate now gives Angle a very slight edge for the first time since July (47.1% to 46.4%) though the race remains very much in our toss-up category.
In the Missouri Senate race, another PPP poll, this one conducted on behalf of the campaign of Democrat Robin Carnahan, shows her trailing Republican Roy Blunt by just five percentage points (41% to 46%). Is Carnahan gaining on Blunt?
The PPP margin is roughly the same as found by two surveys funded by the Democratic Party and released in September, both of which showed Carnahan down by just four percentage points. Those results are slightly better than the eight point leads measured by Rasmussen and their Pulse subsidiary (for Fox News) in late September and early October, but much better than the 13-point Blunt lead (53% to 40%) found by CNN/Time two weeks ago.
Our standard trend estimate for Missouri gives Blunt a slightly better than eight-point lead (49.5% to 41.1%). Our more sensitive estimate, which gives slightly greater weight to the new PPP survey, narrows that margin to just under seven points (47.4% to 40.8%).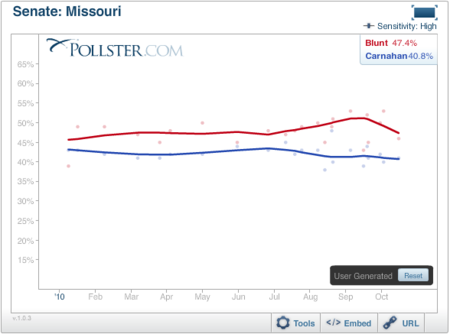 Our more sensitive trend lines (above) suggest that Blunt's lead has narrowed slightly after expanding in August, but nonetheless remains roughly where it has been for most of the year. Whether Blunt's lead is in the lower or upper single digits probably depends on which pollsters are modeling the likely electorate more accurately.
Follow Mark Blumenthal and HuffPost Pollster on Twitter