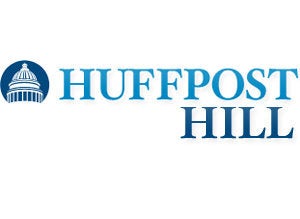 President Obama is demonstrating that you keep your friends close, your enemies closer and your allies in a maddening purgatory of barely-there support. Gay rights advocates were disappointed to learn the DOJ is appealing the moratorium on Don't Ask Don't Tell and that a gay judicial nominee was rejected by the White House. India, America's partner in thwarting China's global dominance, is mired in a headgear-related imbroglio with the commander-in-chief. And Rhode Island gubernatorial candidate Frank Caprio is just about the only Ocean State Democrat above West Warwick comptroller NOT receiving the president's support. This is HUFFPOST HILL for Wednesday, October 20th, 2010:
CHRISTINE O'DONNELL 'HAS A MONEY PROBLEM' - Being published tomorrow morning by Reuters, legendary scribe Mark Hosenball, who recently jumped from Newsweek, files from Wilmington: "O'Donnell's tense relations with mainstream Republicans and her floundering campaign have led bigtime donors to shun her, albeit quietly. Their reluctance to open their checkbooks underlines the GOP's recent tightrope act: the Tea Party's emergence as a major force has energized the conservative base and bolstered Republican prospects in the Nov. 2 election. But the two camps often don't see eye to eye -- on policy as well as on politicians."
SIX MONTHS LATER, GULF STILL STRUGGLING - Half a year after the Deepwater Horizon rig exploded and made the entire Gulf Coast resemble a huge bowl Cocoa Puffs left out in the sun, challenges remain (and we are fully aware that an angel loses its wings every time someone writes "challenges remain"). ABC News: "Government scientists say that the Gulf's ecosystem is hardier than they had anticipated. Steve Murawski, chief fisheries scientist for the National Oceanic and Atmospheric Administration, likened the environmental impact to a concussion, not to a death blow...The government insists the seafood is safe. In 30,000 samples tested, it says there hasn't been a single trace of oil. However, the Gulf's famous oysters have been devastated because of the freshwater flooding intended to keep the oil out of the Mississippi River Delta." http://bit.ly/b2Osk9
JOE WILSON: CHENEY & LIBBY ARE 'TRAITORS' - In an interview with Situation Room host Wolf Blitzer set to air this evening on CNN, outed spy Valerie Plame and her husband, former Ambassador Joe Wilson, offered up some harsh words for Bush administration officials. Asked for her thoughts on Dick Cheney, Plame responded, "I think he has an extremely dark view of the world." Speaking of Cheney's former Chief of Staff Scotter Libby, she said, "I think he's someone who was doing everything he could to protect his boss, Vice President Cheney. And he was left out to dry." Wilson was far more blunt: In response to questions about both men, he simply responded "Traitor" both times.
TODAY'S TERKEL TAKEDOWN - Amanda Terkel: "In the latest example of outside spending playing an outsized role in races this election season, a shadowy Florida-based group has just invested $594,438 in the Nevada Senate race against Democrat Harry Reid. The money for the ad buy is going to the Herald Group, Washington, D.C. public affairs firm. Almost nothing is known about the Ending Spending Fund, one of a growing number of new 'super PACs' that are allowed to raise and spend unlimited amounts of money outside the public eye. Often, as The Huffington Post has reported, they are funded by one or two wealthy donors and their headquarters is little more than a mailbox." http://huff.to/cTFnho
DAILY DELANEY DOWNER - Housing and Urban Development secretary Shaun Donovan detailed the administration's thorough review of the servicing industry in light of the fraudclosure scandal, said they "have not found any evidence at this point of systemic issues in the underlying legal or other documents that have been reviewed." Reporters pressed how long the review would take. Assistant Treasury secretary Michael Barr: "This is not a problem for Secretary Donovan to fix. This is a problem for the banks and servicers to fix. They can fix it as fast as they feel like it."
OBAMA ADMINISTRATION FILES DADT APPEAL - Call us crazy, but don't expect an inspirational made-for-TV movie about the DOJ attorneys in this case. AP: "The Obama administration on Wednesday asked a federal appeals court to immediately suspend a judge's ruling that overturned the military's 'don't ask, don't tell'' policy on gays. The government says it wants the U.S. Court of Appeals for the 9th Circuit in San Francisco to take action on Wednesday. The federal government is preparing arguments for the appeals court on why the ruling on "don't ask, don't tell'' should be suspended while the case is appealed. The Obama administration says it is in favor of repealing the law. However, the government says that letting the ruling of U.S. District Judge Virginia Phillips to go forward immediately would be a major problem for the military. Leaving the judge's decision in place now "would create tremendous uncertainty about the status of servicemembers who may reveal their sexual orientation in reliance on the district court's decision and injunction,'' the Justice Department said in its latest appeals court filing." http://n.pr/aSgVdM
GAY JUDICIAL NOMINEE REJECTED BY WHITE HOUSE - The Washington Blade (on what is already a banner day for the Obama administration's relationship with the LGBT community): "The White House has rejected the recommended nomination of a New York attorney who would have become the first openly gay man to sit on the federal bench, because of comments he reportedly made about the Pledge of Allegiance and Christmas that were deemed anti-Christian. In February, U.S. Sen. Chuck Schumer (D-N.Y.) recommended the nomination of Daniel Alter to serve as a judge for the U.S. District Court for the Southern District of New York. Presidents traditionally follow the guidance of senators from the state where there's a vacancy for judicial nominations. But informed sources told the Washington Blade that the White House rejected Alter's nomination because of remarks he reportedly made regarding a case challenging inclusion of the phrase 'under God' in the Pledge of Allegiance. In addition, the White House reportedly objected to remarks that Alter made suggesting that merchants not wish shoppers 'Merry Christmas' during the holidays." http://bit.ly/cvQWfh
TOMORROW IN ROLL CALL - "Nancy Pelosi's money isn't buying her the loyalty of some moderate Democrats whose votes she could need to secure a third term as Speaker, writes Roll Call's Kathleen Hunter. Roughly 10 Democrats have refused to commit to backing the California Democrat as Speaker, including at least two who have accepted direct contributions from her, and as many as a dozen in tight races appear to be avoiding direct contributions from her. Meanwhile, one Member who has vowed to oppose Pelosi, Rep. Bobby Bright (D-Ala.), has accepted at least $14,000 to his campaign from the Speaker." http://bit.ly/dvHpMU
A reader in the House Appropriations Committee sends us this pic of an honest-to-God deficit hawk menacing the committee: http://bit.ly/cqRgwL
Don't be bashful: Send tips/stories/photos/events/fundraisers/job movement/juicy miscellanea to huffposthill@huffingtonpost.com. Follow us on Twitter - @HuffPostHill
OBAMA CANCELS SIKH EVENT IN INDIA - India, it should be noted, is only 7,800 miles to Ground Zero. Nick Wing: "President Obama may be skipping a trip to a prominent Sikh holy site in India due to worries that wearing the appropriate headgear may reinforce incorrect rumors that he is in fact a Muslim, rather than a Christian. The New York Times reported Tuesday that plans to visit one of India's most famous attractions had been nixed after it became apparent that the president would be required to cover his head with either a traditional Sikh turban or a skull cap like some Muslims wear. Requests to wear an altered baseball cap were not initially approved." http://huff.to/bKmGzR
HOUSE CANDIDATE CAN'T NAME RECENT SCOTUS DECISION...EXCEPT DRED SCOTT - During a debate last night between New Jersey Rep. John Adler and his Republican opponent John Runyan, Adler asked Runyan to name a recent Supreme Court decision "from the last 10 to 15 years" that he disagrees with. "That I strongly disagree with?" Runyan replied before taking a moment to compose himself. Then, with a surprisingly level of assertiveness, he said, "Dred Scott." Some members of the audience, themselves opponents of slavery (good for them!), erupted in applause. Big ups to Ashley Mushnick, press secretary for Ted Deutch for alerting us to this. http://bit.ly/bdy61W
A HuffPost HIll shout-out to all the folks who e-mailed us about Hungarian-born George Soros being an American citizen despite our Paranoid Self-Loathing GOP Lobbyist claiming that he is "German." You folks really love the 'Ros, huh?
...Maybe because he donated $1 million to Media Matters? http://politi.co/bDzSnE
JOE MILLER'S EX-BOSS 'RELIEVED' WHEN HE LEFT - We're not sure if there's an Angie's List for professional politicians but it sure wouldn't have hurt in this situation. Justin Elliott in Salon: "Alaska GOP Senate candidate and Tea Partier Joe Miller, who is already under fire for breaking ethics rules while working as an attorney in 2008, had a rocky tenure at an earlier job at a top Anchorage law firm, his former supervisor tells Salon. After graduating from Yale Law School in 1995, Miller moved to Anchorage to take a job as an associate at the firm then known as Condon Partnow & Sharrock. Attorney David Shoup was Miller's supervisor during the end of Miller's three-year tenure at the firm, and he tells Salon of Miller's departure: 'We at this firm were not eager to have him stay, and so when he announced he was leaving, we were relieved.'" http://bit.ly/cq5TR2
OBAMA HASN'T ENDORSED DEM R.I. GOV CANDIDATE - Unless the president wants to treat Frank Caprio to a romantic "I'm sorry" dinner, he better act fast. "With less than two weeks to go before the Nov. 2 midterm election, President Obama has yet to endorse the Democratic candidate for governor of Rhode Island, Frank Caprio, the state's general treasurer. Caprio is up against an opponent, independent Lincoln Chafee, whose family name is like a household word in Little Rhodie. But it's unlikely Chafee's pedigree has sway with the president. Rather, Obama remembers that onetime Republican Chafee endorsed him in 2008, just weeks before Rhode Island's presidential primary, which was won by Hillary Clinton. Obama went on to carry the state with 63 percent of the vote that November. Obama is set to campaign for congressional candidates in Rhode Island on Monday, but no word from the White House on any endorsement for Caprio, the Associated Press said." Politics Daily: http://bit.ly/cqIrXd
CHRIS CHRISTIE NIXES POTUS, VPOTUS 2012 BID - Odd that the one guy most likely to embody the classic Veep quip that the office isn't "worth a bucket of warm piss" doesn't want the job. Politico: "The New Jersey governor, who won the first-ever tea party presidential straw poll over the weekend despite claims he's not running, said Wednesday he's not interested in the No. 2 spot either. 'Can you see me as somebody's vice president? I mean, who would be that poor guy?' Christie told MSNBC. "You know, I just don't think that my personality is necessarily suited to being No. 2.' Christie also once again said there's 'no way' he'd run for president in 2012. But his wife suggested the freshman governor would be good in the role."
MIKE HUCKABEE HEADING TO IOWA AFTER MIDTERMS - The former Arkansas governor and 2008 presidential candidate will speak about social issues at an Iowa Family Policy Center event on November 21st. CNN: "A source close to the former governor and minister says Huckabee plans to speak about the role of the church in politics, what he considers the current assault on marriage and families, and what it means to be a Christian statesman." We hope Huck's handlers don't pull a muscle trying putting a non-political spin on this. CNN: http://bit.ly/cLNFfo
In what must be an attempt to teach people about Ouroboroses, conservatives are using the law to destroy the document that codifies its most basic principles. American Independent: "In the best-case scenario, Texas state Rep. Leo Berman hopes his state will be sued. The representative for Texas' 6th District, along with more than a dozen other Republican state legislators across the country, plans to introduce a bill in the next session calling for his state to discontinue automatic citizenship for U.S.-born children of illegal immigrants. Instead of a birth certificate, children born to parents illegally in the country would be issued a document they could take to the consulate of their parents' legal country -- and would not be granted the right to stay in the United States. The measure is, of course, a direct violation of the 14th Amendment, which grants citizenship to anyone born in the United States. According to Berman, that's precisely the point." http://ainn.ly/96KGB7
Today in "awesome tweets deferred": @Sestak2010: Don't Call it a Comeback http://youtu.be/vimZj8HW0Kg #sestak #p2 #tcot
It was deleted shortly thereafter...
HOUSE CANDIDATE ATTACKS THE WRONG INCUMBENT - "Republican challenger Cory Gardner on Tuesday released a new ad that criticized incumbent Rep. Betsy Markey for 'voting for the most fiscally irresponsible budget in history.' But Markey was among a handful of House Democrats to vote against the fiscal year 2010 budget, and she did so twice, according to the roll call votes mentioned in Gardner's ad.. Markey campaign spokes-man Ben Marter suggested that the Gardner campaign had confused Markey with Rep. Ed Markey of Massachusetts, who voted for the budget both times. In House voting records, the Markeys are identified by state to avoid such confusion.'If Rep. Gardner can't figure out how this whole voting system works, how can he be trusted to actually read bills?" Marter said." Colorodoan: http://bit.ly/dvRlkZ
Most-popular-guy-in-the-caucus Charlie Rangel is pressuring his caucus colleagues to give more to the DCCC. Roll Call: "Embattled Rep. Charlie Rangel (N.Y.) used a Caucus-wide conference call on Wednesday to pressure his House colleagues to give more money to the Democratic Congressional Campaign Committee. Rangel, who himself has not met his $500,000 DCCC dues goal this cycle -- contributing just $150,000 so far -- said Democrats will be pointing fingers after Election Day if they lose the majority. Rangel has spent recent months battling charges of ethical wrongdoing and is set to go before an ethics subcommittee Nov. 15 when Congress returns for a lame-duck session." http://bit.ly/aPOBiL
BECAUSE YOU'VE READ THIS FAR - Here's a tortoise playing with a puppy. http://bit.ly/dtXu59
ELIOT SPITZER REJECTED FROM HARVARD CLUB - Now Sptizer will drunkenly found an online network to compensate for his diminished social standing ("You know what's cool? Client number a billion") . NYT: "This year, the Midtown club turned down Mr. Spitzer's application for membership -- a rare snub by the club -- because officials there did not want to be associated with Mr. Spitzer and the prostitution scandal that forced him from the governorship of New York in 2008, according to a person told of the decision by Harvard officials. Mr. Spitzer at first declined to discuss the rejection, but on Tuesday night, his spokeswoman, Lisa Linden, said in a statement. 'The decision by the Harvard Club's admissions committee is disappointing.'"
Does this mean Trenton is going to get new bike paths and dog parks, too? "Washington, D.C.'s former schools chancellor is seriously considering an offer from Gov. Chris Christie to become the state's next education commissioner, but family concerns may prove an insurmountable stumbling block for her, two people familiar with the negotiations said." Star Ledger: http://bit.ly/d3CEeE
Someone from Planet Pelosi sends over this image of the speaker speaking to OFA orgnaizers in NYC yesterday: http://bit.ly/drDzNh
IS THE 'RENT IS TOO DAMN HIGH' GUY NOT PAYING RENT??? - We expected more transparency from Mr. T's kung-fu cousin. NYT: "Mr. McMillan said in an interview on Tuesday that for at least the last decade, he had lived rent free. 'We're like family,' Mr. McMillan said of his landlords. 'They don't want me to pay any money at all. I am basically living there rent free.' Mr. McMillan said that he moved into his apartment, a one-bedroom on Nostrand Avenue in Flatbush, Brooklyn, in the early 1980s but soon fell behind on rent when he left his job in the Postal Service on disability. The landlady, Mr. McMillan said, admired his Vietnam War service and forgave the back rent and, eventually, the future rent, too." http://nyti.ms/9qvoqi
JEREMY THE INTERN'S WEATHER REPORT - Tonight: If you're on Chesapeake Bay, you'll see rain. However, for those that don't live out there, the rain has cleared the area, and will remain out of the way. While it won't be super-clear, it'll stay in the low 50s. Tomorrow: Warms to the upper-60s (remember the days of 90-degree weather?) with sunny skies. Thanks, JB!
Bonus: NLCS Edition: Sunny (remember, 3-hour time difference) and in the 60s. Tomorrow, same. Should it come to that, it will be clear in Philadelphia this weekend. But Huff Post Hill hope that's a moot point. Batter Up, JB!
- A very literal interpretation of the video for the Smashing Pumpkins' "1979." http://bit.ly/95Bqla
- From the HuffPost Comedy folks, a collection of really creepy Halloween costumes. http://bit.ly/c4TLBD
- A four-foot long cat is the world's longest. http://ind.pn/dbzTNS
- This French bulldog possesses monastic-level discipline. http://bit.ly/bWbFEU
- Salsa Beethoven. http://bit.ly/cl2isU
- The meme-iest pumpkin we've ever seen. http://bit.ly/cnC43C
- Dog adopts kitten. World sighs. http://bit.ly/b4C1Hy
- A man found Jesus in a log. http://bit.ly/cDfnbN
- Someone's mom raps about foreclosures. For the love of God, someone please fix the economy. http://bit.ly/9RMq8Y
@kombiz: "In capitalist america bank robs you" http://imgur.com/JJkjc.jpg
@ebertchicago: Be nice if Clarence Thomas said as much in court as his wife does on answering machines.
@atrios: a new generation learns about pubic hair on coke cans
@pourmecoffee: The Thomases can't stop extending things to poor Anita Hill -- whether it be olive branches or other unwelcome things.
TONIGHT: Nancy Pelosi speaks to Charlie Rose. Joe Wilson and Valerie Plame dish about the Bush administration on the Situation Room. Alexi Giannoulias, Charlie Crist, Dick Durbin and our own Howard Fineman all appear on Hardball. Barney Frank is on Countdown. TOMORROW: Jim Clyburn, Dick Durbin, Valerie Jarrett and Joe DioGuardi stop by Morning Joe.
6:00 pm - 8:00 pm: Because misery loves company, join other broke do-gooders at DC Young Nonprofit Professionals' Networking Happy Hour[Liberty Tavern, 3195 Wilson Boulevard, Arlington].
6:30 pm - 8:00 pm: It's not a salon, they swear! The Washington Post hosts a "townhall" entitled "The Path Forward - What Will a Change in Leadership Signify for DC?" featuring some of its local reporters discussing what Vince Gray's election means for the city. E-mail spksbureau@washpost.com to RSVP [Watha T. Daniel-Shaw Branch Library, 1630 7th Street NW].
TOMORROW
12:00 pm - 2:00 pm: To mark its opening, Muncheez Mania in Georgetown hands out free crepes and sandwiches [Muncheez Mania, 1071 Wisconsin Avenue, NW].
8:00 pm: Nothing complements Northeast DC quite like electro-dream pop, no? School of Seven Bells performs at Rock and Roll Hotel [Rock and Roll Hotel, 1353 H St NE].
8:00 pm: We've always maintained that breakups would be easier if backed by horns and a rock-solid rhythm section. Mayer Hawthorne puts this to the test with his take-me-back-gurl lyrics and soulful instrumentation [Black Cat, 1811 14th St NW].
Got something to add? Send tips/quotes/stories/photos/events/fundraisers/job movement/juicy miscellanea to Eliot Nelson (eliot@huffingtonpost.com), Ryan Grim (ryan@huffingtonpost.com) or Nico Pitney (nico@huffingtonpost.com). Follow us on Twitter @HuffPostHill (twitter.com/HuffPostHill). Sign up here: http://huff.to/an2k2e