Two new statewide polls released overnight confirm Democrat Joe Sestak's rebound in the Pennsylvania Senate race, while a batch of new California surveys shows Democrats Barbara Boxer and Jerry Brown maintaining narrow leads. Meanwhile, new polls show nominal advantages for the Republicans in the deadlocked Senate races in Illinois and West Virginia.
In Pennsylvania, a new Quinnipiac University survey released this morning confirms that Democrat Joe Sestak has closed the gap with Republican Pat Toomey, showing Toomey up by a slim two-point margin (48% to 46%) that falls well within the poll's margin of error. Quinnipiac's last Pennsylvania survey showed Toomey leading by seven (50% to 43%). Meanwhile, last night's tracking poll update from Muhlenberg College/Morning Call now shows the race to be dead even (43% each).
The new surveys narrow Toomey's lead on our trend estimate to just 2.2 percentage points (46.5% to 44.3%), and shifts Pennsylvania into our toss-up column.
In California, a single poll released earlier this week helped fuel talk about a narrowing of the California Senate race. However, four new polls released since collectively show Senator Boxer maintaining a modest lead over Republican challenger Carly Fiorina.
The new California polls include the latest from the Public Policy Institute of California (PPIC), SurveyUSA and Fox News/Pulse. The PPIC survey released last night gives Boxer a five-point lead (43% to 38%), with a larger undecided percentage than other surveys (13%). Their previous survey in mid-September showed Boxer leading by seven (42% to 35%). SurveyUSA's new poll gives Boxer a two-point edge (46% to 44%); their last measurement had Boxer up by three (46% to 43%). The Fox News/Pulse automated survey shows Boxer with a four-point advantage (48% to 44%), roughly the same as recent polls by Rasmussen Reports which uses a virtually identical methodology.
The new data also includes a survey conducted by Republican pollster Wilson Research Strategies (but not sponsored by a Republican campaign or party committee) that gives Fiorina a three-point advantage (46% to 43%). The Wilson poll is the only California survey since early September to show Fiorina with even a nominal edge.
[Update: The Washington Post's Chris Cillizza reports this morning that Republicans are distributing a Tarrance Group poll conducted earlier this week for the Republican Senatorial Campaign Committee (RSCC) that shows Boxer and Fiorina tied at 44% each].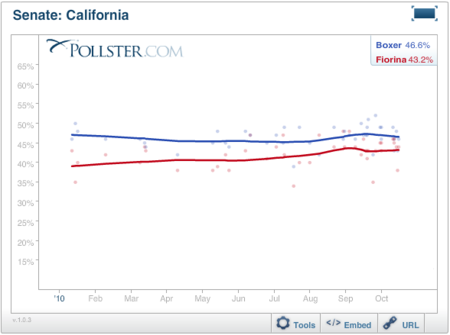 Our trend lines show Boxer maintaining a slightly better than three-point advantage (46.6% to 43.%) -- her support on the trend line is about a percentage point lower than in mid-September. The Wilson poll has only a slight impact on the overall margin. Filter it out and Boxer's margin grows by 0.4%.
The new surveys also show a slightly wider lead for Democrat Jerry Brown over Republican Meg Whitman. The PPIC poll shows Brown leading by eight points (44% to 36%), SurveyUSA has Brown up by seven (47% to 40%), and Fox Pulse show him with a 5-point advantage (48% to 43%), while the Wilson poll has Whitman at 45% and Brown at 44%. On our current trend estimate Brown leads by more than six points (47.3% to 41.6%).
Notably, the PPIC and SurveyUSA polls include separate samples of both landline and mobile telephones. The SurveyUSA results partially confirm a finding reported last week by the Pew Research Center: Respondents reachable by cell phone only favored the two Democratic candidates by double-digit margins. However, SurveyUSA's cell-phone-only subgroup made up a relatively small part of their weighted sample (7%), so their inclusion appears to boost the overall Democratic margins by roughly a single percentage point. Note also that SurveyUSA used live interviewers to call their cell phone respondents and their usual methodology to call landline phones.
In Illinois, three new polls released yesterday collectively confirm the neck-and-neck race. The latest automated survey from Democratic-affiliated Public Policy Polling (PPP) shows Republican Mark Kirk with a two-point advantage (42% to 40%) over Democrat Alexi Giannoulias, while a new Rasmussen automated poll gives Kirk a 4-point advantage (44% to 40%). Meanwhile, the Democratic Senatorial Campaign Committee (DSCC) released an internal poll showing Giannoulias with 5-point lead (41% to 36%); an internal Giannoulias campaign poll conducted earlier last week also gave the Democrat a slim lead.
Our trend estimate based on all of the polls produces a virtual tie (41.6% to 41.4%), although if we filter out the campaign-sponsored polls, the trend lines show a slightly better than two-point Kirk advantage (42.3% to 39.9%). Either way, this race merits toss-up status.
Of the 16 public polls we have tracked in West Virginia this year, 10 have come from either Rasmussen Reports or Rasmussen's Pulse subsidiary on behalf of Fox News. As reported here previously, the Rasmussen and Fox/Pulse polls are methodological clones, differing only in the questions asked after the horse race measure. Yesterday's new Rasmussen tracking poll shows Republican John Raese leading Democrat Joe Manchin by seven points (50% to 43%), a survey conducted a few days earlier by Fox/Pulse gives Raese a three-point advantage (48% to 45%).
However, four polls fielded during the previous week by organizations other than Rasmussen/Pulse produced results ranging from a tie (CNN/Time) to a 10-point Manchin lead (Marshall University/Orion Research). In the six weeks before that, seven of eight polls were conducted by Rasmussen and Fox/Pulse, and those typically gave Rease low, single-digit advantages.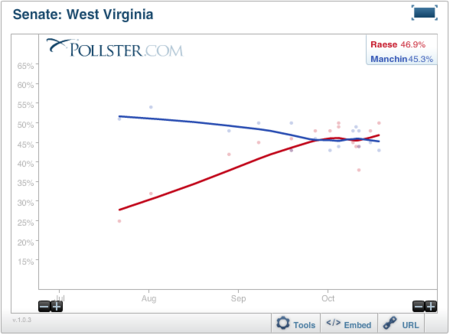 Our trend lines smooth out much of the variation, but the timing of the West Virginia polls leaves unclear whether the very slight rise and fall in the Manchin trend line is the result of real variation or of a persistent house effect favoring the Republicans in the Rasmussen/Fox polls. Either way the net impact is relatively small, our current trend estimate gives Raese just a 1.6-point edge (46.9% to 45.3%) -- very much a toss-up race.
A housekeeping update: We made a minor change to our charts yesterday, slightly increasing the sensitivity of the trend line to better reflect the short term changes now being picked up by the more frequent tracking polling. We will post more on this and additional upgrades coming in the next few days later on HuffPost Pollster.
Follow Mark Blumenthal and HuffPost Pollster on Twitter