For the past year, Food52.com readers have been voting in weekly showdowns of reader-submitted recipes on a given theme. The winning recipes of each week will end up in Food52's upcoming cookbook, along with bios of the people who submitted them (Food52 explains the process in simple detail here).
Food52 and its co-founders Amanda Hesser and Merrill Stubbs have invited HuffPost Food readers to vote on the contest for week 4 (of the second year, and the second book).
Week 6's showdown is for the best recipe for Halloween Treats.
Check the finalists out below, and vote for your favorite here.
* * *
Salted Pumpkin Caramels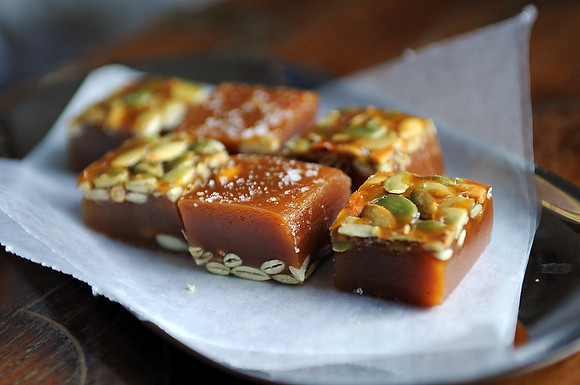 Photo: Sarah Shatz
Amanda and Merrill's notes on Salted Pumpkin Caramels on Food52.com:
Cheese1227's caramels really evoke the essence of fall, and her approach is elegant not heavy-handed. The earthiness of pumpkin, softened with cream, permeates each chewy bite, followed by a whisper of spice, and the delicate crunch of fleur de sel is a clever detail, offsetting the sweetness of the candy. The toasted pepitas are addictive even on their own (make sure to save some for the bottom of the baking dish!); they give each of the finished caramels a beautifully lacquered, dusty green cap. - A&M
View the Salted Pumpkin Caramels recipe here.
* * *
Tipsy Maple Corn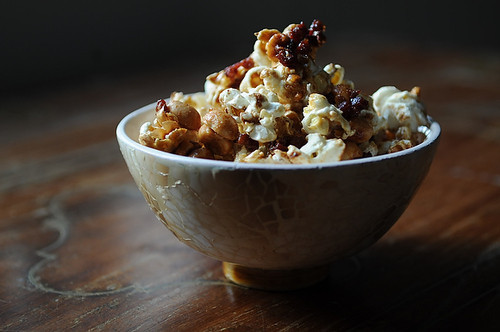 Photo: Sarah Shatz
Amanda and Merrill's notes on Tipsy Maple Corn on Food52.com:
We were initially seduced by "tipsy" in the title, but once we tried thirschfeld's recipe, we fell in love with much more than the Jack-Daniels-infused syrup. There are the peanuts (we used dry roasted) and the tiny dots of pancetta -- neither of which stoops to merely accessorizing the corn. The nuts give the treat heft, the pancetta salt and richness. The most important step is the oven-crisping. Be careful not to burn the edges and don't worry if the popcorn isn't totally crisp when you take it out of the oven -- it will continue to firm up as it cools. We loved this as a Halloween treat, but it would be just as delicious paired with a good movie. - A&M
View the Tipsy Maple Corn recipe here.