It may not come as a shock that, despite repeated efforts, Rachel Maddow has not been able to secure an interview with former president George W. Bush. Now, Maddow is trying to win an interview with Bush by entering a contest that he is running on Facebook in support of his upcoming memoir, "Decision Points."
Contestants were required to submit five questions to Bush's Facebook wall. Of the thousands who submitted the questions before the Oct. 21st deadline, 100 finalists will be asked to submit a two-minute video. Of those 100, five videos will be put to a public vote. The winner will then be flown to Dallas for an interview with the 43rd president himself.
Maddow reached out to her viewers for questions over the past week, and submitted the five she had chosen just before the deadline: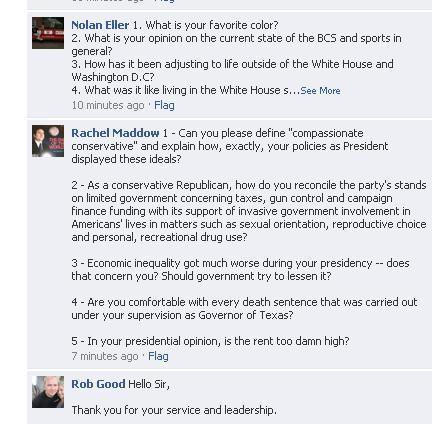 Speaking on her show Thursday, Maddow mused aloud about what kind of video submission she should make if she is chosen for the next round of the contest:
"What is the most compelling approach [for George Bush]? Do you go for funny, do you go for substantive, substantive funny, surreal, flattery, charm, intellectual heft, ostentatious lack of intellectual heft?"
WATCH: