Election news and results from throughout Illinois. Updated continuously throughout the evening.
11/03/2010 7:15 PM EDT
Gapers Block: 'Berrios Wins, Most Everyone Loses'
Ben Schulman on how Machine-style politics once again defeated real reform.
". . .As one of Claypool's volunteers said, right before his concession, "there's something adrenalizing about getting involved in a campaign like this, and yet, it's demoralizing" knowing the outcome."
Read it, and weep. Seriously.
11/03/2010 6:43 PM EDT
Things Looking Even Better For Pat Quinn
According to the latest numbers, with 99 percent of precincts reporting, Gov. Pat Quinn's lead over Republican challenger Bill Brady has grown to 16,210 votes.
During a press briefing today, Brady appeared optimistic (video below) but Republican officials are now sounding a little less so.
"Do we recognize the reality of coming up with 8,000 votes as an uphill climb? Of course we do. But nobody's ready to throw in the towel," Brien Sheahan, the lead counsel for the state Republican Party, told the Chicago Tribune.
Brady said today that a final count could take up to 30 days. If the gap continues to widen, we doubt he will stick around that long.
11/03/2010 4:32 PM EDT
Election Judges Gone Wild
While no serious incidents were reported, there were some unruly election judges on Tuesday.
Fox Chicago reports there were two judges arrested for showing up drunk, one for groping another judge and a fourth who "yanked a provisional ballot away from a voter."
We are just wondering how drunk you have to be for the police to be called...
11/03/2010 4:28 PM EDT
GAME ON
Just thinking about this meeting makes us feel awkward. But we will still be posting photos of it tonight.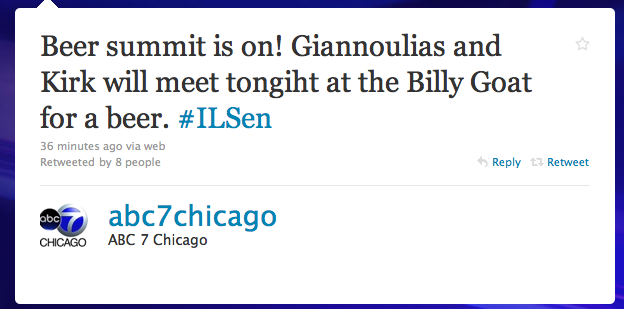 11/03/2010 3:31 PM EDT
Illinois Election Roundup
Illinois Democrats, like the rest of the country, suffered some big losses Tuesday. Read about them here.
11/03/2010 3:20 PM EDT
The 'What If' Game
We can't help but agree with the Chicago Reader's Whet Moser on this one:
I suspect the state would be a lot happier if we could trade Kirk Dillard (who would have won) for Pat Quinn, and David Hoffman (who would have won) for Mark Kirk. We can do that, right? Maybe the Dems could offer to kick in a House member to be named later. I get why Brady won the primary—more ideologically stringent candidates are more likely to win if you decide based on the whims of the most active party members. And I suspect that an even slightly less conservative candidate might have made up the minuscule lead that Quinn currently holds. "Who could have predicted that being against access to birth control would hurt a candidate with women?" Not primary voters!
Seriously though. Are you happy with the outcome of the election? What should have been done differently?
11/03/2010 2:52 PM EDT
Peter Roskam Asks: Which Obama Will Show Up For The Next Two Years
Illinois Republican Rep. Peter Roskam easily won re-election Tuesday night, and on Wednesday published a blog responding to the GOP "tidal wave."
Roskam explained what issues Republicans will be putting on the table--and expressed a need for Presidential cooperation. Obama made similar statements at Wednesday's press conference--but it will be interesting to see whether bipartisanship can actually happen in Washington.
"They sent a clear message yesterday that they want a balance to the government that will solve problems, and we have a real opportunity for that today," Roskam writes. "The new Republican Majority is serious about solving our many problems. If we are met with the ability that then-State Senator Obama deployed so effectively, together we can bring about the relief and opportunity America needs right now.
Read Roskam's HuffPo blog here.
11/03/2010 2:41 PM EDT
Tea Party Candidate Joe Walsh Declares Victory Over Democrat Bean
In the 8th District Congressional race, Tea Party candidate Joe Walsh has declared victory over three-term incumbent Melissa Bean, though Bean has yet to concede.
"We now feel confident that the remaining precincts will only strengthen our margin of victory," Walsh said in a statement, according tto the Sun-Times.
A Bean spokesman told the paper she would not concede, as too many votes remain uncounted and she trails by less than 800 votes.
11/03/2010 10:54 AM EDT
Bill Brady Press Conference
Republican gubernatorial candidate Bill Brady has scheduled a 10:30 a.m. press conference. Will he concede?