The Daily Mail recently caught up with 71-year-old Veruschka, who was all the rage in the 1960s but returned to the runway at the Giles Spring/Summer 2011 show at London Fashion Week in September. And apparently she wasn't too impressed with the designer's work. Thus spoketh the Mail:
Veruschka believes she was a gimmick and that designers no longer have the skills to dress women who are not children with bodies that look like ironing boards.

'I didn't like the make-up in the show, and didn't think much of the dress. Now we are using the old ones, make them look great and show their power as well as their age.'

She is as dismissive of the trend for vertiginous shoes.

'In the Sixties, fashion was about liberation. It was about setting women free; it wasn't about being unable to walk.'
She did note that she was super-thin at the beginning of her career, starring in "Blow Up," but she said it was because, "I had been on a fashion assignment in Mexico and became terribly sick from drinking the water. I lost so much weight and was really ill and weak when I made the movie," however, she added, "I was in my 20s when I made the movie and found success. We were women, not children."
Veruschka also weighed in on plastic surgery and Botox, remarking, "I know that there are many things I could do, but I'm not interested. It's more important to be loving and to have a lively mind."
At Giles: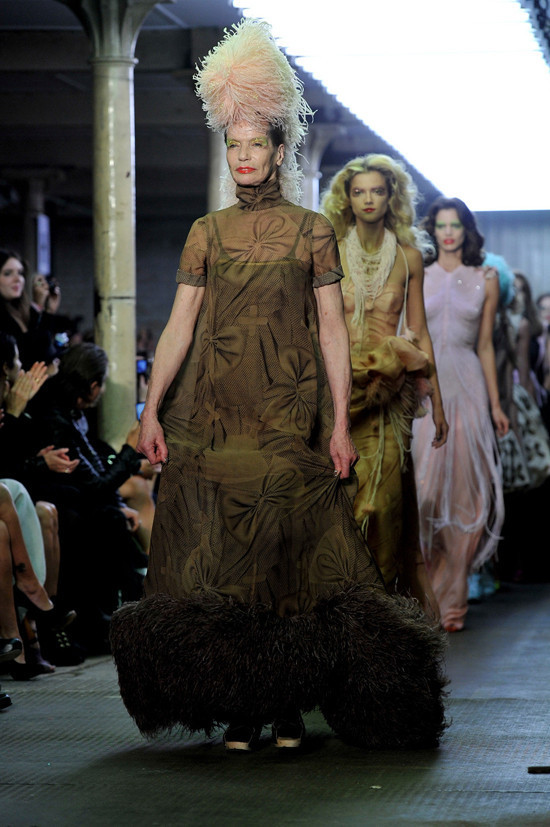 1965: