Whether you're participating or watching the ING New York City Marathon, it is a spectacular event. Over 40,000 runners have seriously trained for months to be able to complete the 26.2 mile tour of all five boroughs. The week and weekend leading up the race is packed with events and the day itself is a flurry of activity. If you are in need of some suggestions for carbo-loading the night before be sure and check out our picks for the best pizza and pasta options. We've put together a more general guide that will hopefully help make the experience more enjoyable although, we can't make the 26 miles go by any faster...sorry!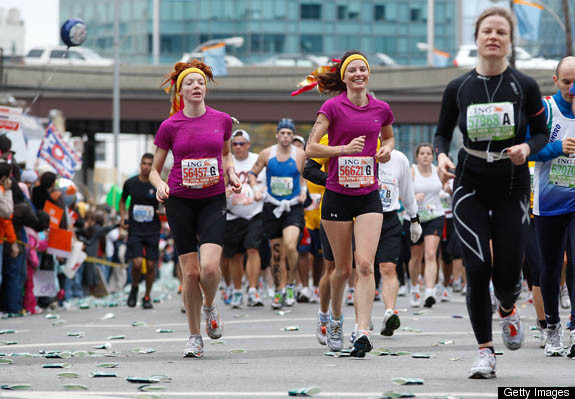 For Runners
No doubt you've begun to taper your runs, you are nervously choosing your best race outfit and figuring out what fuel you'll need before and during the race. The ING New York City Marathon website has all of the specifics you might need but here are some last minute tips.
DON'T FORGET THAT DAYLIGHT SAVINGS TIME ENDS SUNDAY, NOVEMBER 7 AT 2AM
Transportation assignments are now available on your "Profile Page" and as a reminder, official marathon buses are the only vehicles allowed into the staging area on Staten Island. Be sure to double check your corral and assemble in your "start village" once you arrive in Fort Wadsworth. The weather forecast is brisk with highs in the low 50s and lows in the upper 30s so be prepared with disposable clothing you can shed once it gets warmer (discarded clothing will be collected and donated). Be sure and analyze the course map to become familiar with the water and fuel stations. Also, along the way there will be 130 live bands adding musical encouragement.
By "Mile 26" you will have traversed the city and will reenter Central Park at Columbus Circle. Be sure to arrange a meeting place for friends and family because it will be extremely hectic!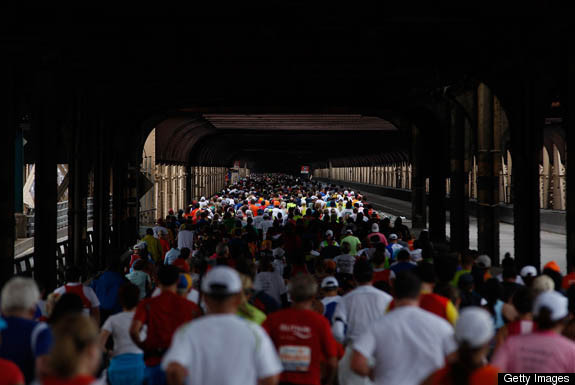 For Spectators
How do you approach watching this epic race? If you are following a particular runner there are many ways to keep track of them.
The Runner Information Hotline 800.496.6193
Operated by the members of the ING Marathon team, when you call this number you will be asked for the marathoner's race (bib) number. They will be able to tell you their finishing time or their location in a medical tent.
Athlete Alert
This fee based service involves registering the phone you will be using, purchasing a subscription and choosing up to three runners that you would like to track. For on-demand tracking, you can text at any point to find out the runners latest recorded split.
Marathon Mobile IPhone App
Download this app at the iTunes store for free ($3.99 for premium) to access live race-day video, the entire NBC 4 New York show, individual runner tracking, athlete profiles, alerts and much much more.
Athlete Tracker
If you can't make it to the race and want to check in via your web browser. This free service allows you to track up to 3 runners. It will be available on INGNYCMarathon.org at 7:00 a.m. EDT on Sunday, November 7.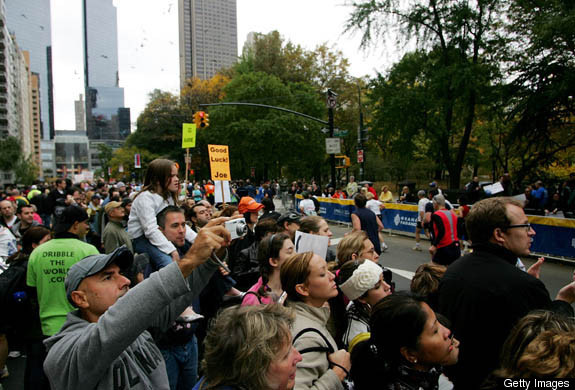 Don't forget to bring posters, balloons, anything to distinguish yourself amongst the dense crowds. The course map is available to download, however there are a few recommended spots. Central Park South is a great place to stake out near the end of the race as well as the 8 mile mark in Brooklyn. Stop by a participating Dunkin' Donuts or Subway for additional gear to help you cheer on the runners. To help you get in the spirit, there is a Marathon Sunday "Tailgate" at six bars along First Avenue and Central Park West. The "Race to Refreshment" sponsored by Coors Light includes fun giveaways and discounts in honor of the race.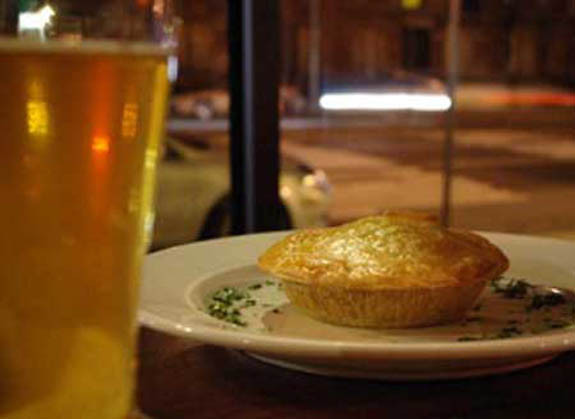 If you are looking for a solid brunch near the the beginning of the race, Sheep Station, a relaxed Australian restaurant in Park Slope, is situated right at the 7.5 mile mark. They will begin serving brunch at 8:30am including decadent dishes like poutine (fries, cheese curds and gravy) and hearty meat pies. You might not be running the race but you will need the energy for all of that cheering!
The race ends in Central Park with the lead women expected to finishing around 11:30, lead men around 11:50 and the last runners around 4:30.
The race is over...now what?
Blues Traveler is having a concert at the Hammerstein Ballroom, Sunday night at 8:30pm (doors open at 7pm). Each runner gets two free tickets on a limited first-come-basis so make sure to check in at the Expo.
Maybe watching the race has inspired you to sign up next year! If so, apply for the ING New York City Marathon 2011 and participate in the Marathon Scavenger Hunt on Monday, November 8, between Noon and 3pm. You will be entered into a lottery with the winners announced on Tuesday, November 9th. Click here for more details.