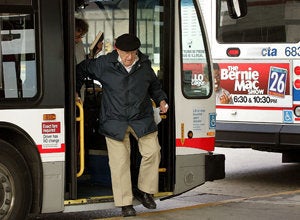 Late in his administration, seeking support from a vital constituency, Governor Rod Blagojevich pushed through a measure allowing all senior citizens, regardless of income, to ride Chicago-area mass transit for free.
That was almost three years ago. Now, with the state and city budgets both in shambles, the state legislature is hoping to find a way out of that plan without stepping on any seniors' toes.
"My expectation is that eventually we will go back to a system where those who are needy are the ones who get consideration on the fares on mass transit,'' said House Speaker Michael Madigan at a transportation policy symposium at Northwestern University, the Chicago Tribune reports.
House and Senate Republicans also support limiting the free rides to those in need. Senate minority leader Christine Radogno was optimistic that such a measure could be passed in the veto session this winter, or at latest during the spring legislative session.
The question is, will it pass with veto-proof majorities? And will it have to? On the campaign trail, Governor Pat Quinn promised to veto any attempt to scale back the free rides program. But faced with the harsh realities of the CTA, Metra and Pace budgets, and having already won re-election, he may reconsider that position.
Ending free rides won't be enough to close the budget gaps at the transit agencies, by a long shot. Madigan also discussed raising the gas tax to help pay for transportation costs, an issue on which there is less bipartisan support.
But if even some of the roughly 25 million free rides seniors take every year were instead at the reduced fare of $1, the change would generate valuable revenue for vastly overburdened agencies.
Explain your vote in the comments below.