Though the Chicago elections are less than three months away, the race for mayor still seems to be in its very early stages. There have been few political ads on television and even fewer debates. Voters can't even bank on a candidate yet--since most have been challenged.
Today, however, was a bit of a circus.
Rahm's Very Own Birthers

That's right. Birthers. We knew people had questions about Rahm Emanuel's legal residency in Chicago, but apparently some people want to see his birth certificate as well. POLITICO'S Ben Smith shared one of the challenges today, in which Alfredo Castillo demands to see a certified birth certificate from the candidate. NBC Chicago reports that another objector demanded the same thing, though there is no law requiring mayoral candidates to be born here. For the record, Emanuel was born in Chicago.
And Then There Were 15

During a Monday hearing, Chicago election officials voted to remove four mayoral candidates from the ballot after they failed to meet the city's requirements. Those removed include M. Tricia Lee, a fouth generation Chicagoan with no political experience; Ryan Graves, an employee with the city's department of Water Management; and real estate broker Tommy Hanson. Hypnotherapist Jay Stone--the son of alderman Berny Stone--was also removed from the ballot.
NBC Chicago reports that Stone threw a bit of a hissy fit when election officials realized he did not turn in enough signatures:
. . . [Stone] was escorted from the hearing after calling for the ouster of Chicago Board of Elections chariman Langdon Neale.

"I challenge you Langdon Neale," screamed Stone. "You make millions of dollars [through your private law practice]," he said, suggesting some impropriety. Stone has filed only about 250 signatures for his mayoral bid. 12,500 are needed.
Lee was also removed due to lack of signatures, and Graves had duplicate signatures in his packet, the Chicago Tribune reports.
Rahm's Renter Out

Election officials did not have to remove businessman Rob Halpin from the ballot Monday. He removed himself.
Halpin rented Rahm Emanuel's Chicago home when he left to become White House Chief of Staff and made headlines by refusing to move out of the home when Emanuel returned to Chicago. Soon after, Mr. Halpin told reporters he was approached by Republican operatives asking him to consider a mayoral bid. Halpin said he was thinking about it, and began gathering signatures. He ended up submitting signatures--but the Chicago Sun-Times reported that many of those signatures were not valid. Instead of duking it out with election officials, Halpin admitted defeat.
"As of today, I am officially ending my candidacy for mayor," Halpin said in a statement. "It is my sincere hope that, as a city, we come together to address the difficult choices ahead. Although I will not run in 2011, I plan to continue to do all I can, working with both the public and private sectors, to help bring jobs and opportunities to the citizens of Chicago, who have long lost jobs to the suburbs and collar counties."
But, Halpin's 15 minutes is not up yet. He is expected to be a witness against Emanuel as the former White House Chief of Staff tries to fend off residency challenges. Emanuel may also appear in front of the board to defend his Chicago residency. Read more about his residency challenges and today's hearing here.
Daley Forever?

Does all this talk of Rob Halpin and a screaming hypnotherapist freak you out? Perhaps you are to blame for these signs that have popped up around the city: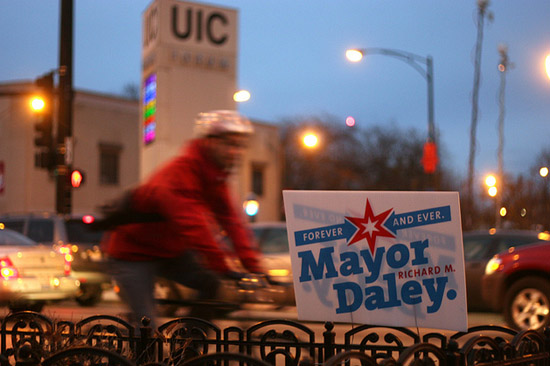 Photo courtesy of photographer Nick Adam. You can see more of these signs and other great Chicago photographs by Adam here.
If you have any juicy gossip about the race, or a story you think we should see, send us an email at chicago@huffingtonpost.com.