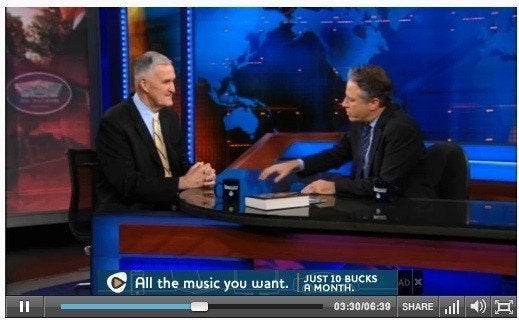 General Hugh Shelton, who served as Chairman of the Joint Chiefs of Staff from 1997 to 2001 of the United States, spoke to Jon Stewart last night about his new book "Without Hesitation: The Odyssey of an American Warrior."
Gen. Shelton told Stewart about a person who made a suggestion to President Bill Clinton to have an American plane fly low and slow so that Saddam Hussein would shoot it down, allowing the U.S. to retaliate.
"I'll be willing to do that as soon as I can get your ass qualified to fly low enough and slow enough to do it," Shelton responded pointedly.
Apparently swept away by the interview with Gen. Shelton, Stewart invited the author to continue chatting after the show. The extended interview was later posted on Stewart's website.
During the extended clip, Gen. Shelton said about Julian Assange: "He constitutes a greater threat to our national security and to the reputation of the Unites States than Osama Bin Laden does."
So, how exciting was the interview? You decide ...
WATCH: