Following a star-studded state dinner at the White House, Chinese President Hu Jintao will arrive in Chicago Thursday.
Chicago Mayor Richard M. Daley, who visited China to promote Chicago business interests in September of last year, will greet Hu at O'Hare Airport Thursday afternoon, NBC Chicago reports.
Daley, who also attended the state dinner in Hu's honor Wednesday, called his visit to Chicago a "big, big, big, big, big deal" earlier this week.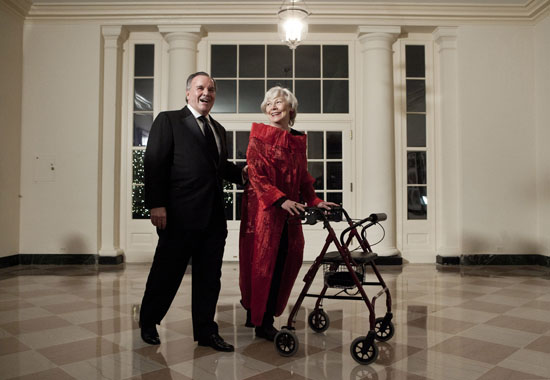 Mayor Daley and his wife Maggie at the White House state dinner in Hu's honor Wednesday evening.
"In these tough economic times we need to be doing everything we can to make sure our city is competitive globally and we are attracting business and tourism which will help boost our local economy," Daley told China Daily in September. "We want to portray what Chicago and Illinois are all about."
Upon Hu's arrival, Daley, local business leaders and Chinese officials will head to the Hilton and Towers for a dinner and gala in the Chinese president's honor.
During his two-day Chicago tour, Hu will visit Walter Payton College Prep, which has the largest Mandarin language program in the country. He will also tour Chinese businesses with a Midwest presence.
While Daley is excited about the visit, some activists see it as a chance to make their voices heard about human rights in China.
"We want to tell Mr. Hu that we don't welcome him here," Lobsang Wangdak, head of the Tibetan Alliance of Chicago, told the Chicago Tribune. Wangdak and about 100 other activists plan to gather outside of the Hilton Thursday to speak out about China's treatment of Tibet.
Other groups, such as the Chinese American Association of Greater Chicago, have planned "welcoming activities" outside the hotel, and told the paper the fact that Hu chose to visit Chicago--the only U.S. city aside from Washington D.C.--is an honor.
"This will really increase Chicago's status internationally," Hong Liu, the group's president, told the Tribune.
Daley, who has promoted ties with China for years and traveled there four times, agrees.
"I look forward to welcoming President Hu to Chicago to continue building a relationship that advances the common interests and shared concerns of China and Chicago," he said in a statement this week.
Shanghai has been a Chicago sister city for more than two decades.