The Pittsburgh Steelers defeated the New York Jets 24-19 on Sunday, capturing the AFC Championship and earning a trip to the Super Bowl, where they will face the Green Bay Packers.
HuffPost Senior Political Editor -- and Pittsburgh native -- Howard Fineman was in attendance and sent photos and updates from the game. Scroll down for his observations, as well as in-game updates from HuffPost editors.
01/23/2011 11:26 PM EST
'This Is Who We Are'
Fineman's final dispatch:
PITTSBURGH -- I'm sorry, New York. We are Pittsburgh. We need this more than you. This is what we do and who we are, or at least who we have become. The Steelers are too central to our identity to allow for the logic of worthy loss. If we don't have this, we don't know what we have.

Actually, that has become a real exaggeration. The city is doing great, thank you; better than most. But the idea lingers that we must live through our teams to have a seat at the great American banquet table.

I talked to a number of very gracious Jets fans after the game. We were trudging back through the cold. I congratulated them on the guts and skill of Mark Sanchez, who is a real gamer. They marvelled at the Inner Kingdom nature of this place, these people and this team: how they all fit inside each other like Russian nesting dolls.

The peace and the contentment -- the relief -- of the Steelers fans in the snow and frigid cold as they walked back into their magically lit up little city was almost spiritual in its aura and gravity.

I know it sounds silly but it is true. And I have experienced it when the Steelers lost, too.

New York is New York. Chicago is the City That Works. Pittsburgh is, well, home.
01/23/2011 11:17 PM EST
Howard Fineman has some more pictures from post-victory Pittsburgh:
Illuminated at night, the Blockhouse, the last surviving piece of old Fort Pitt at the confluence of the three rivers, which is why Braddock and Washington came, and the Steelers -- and why I'm here too.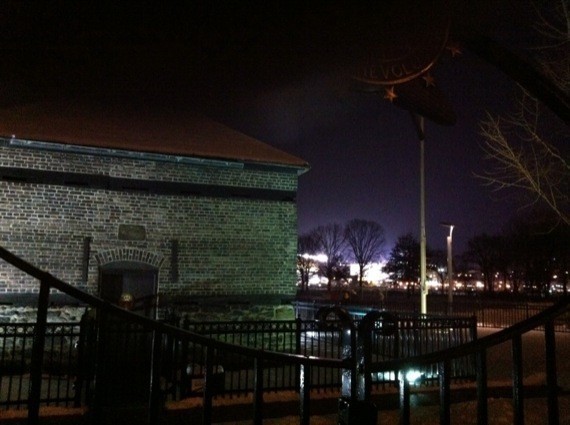 On to Dallas.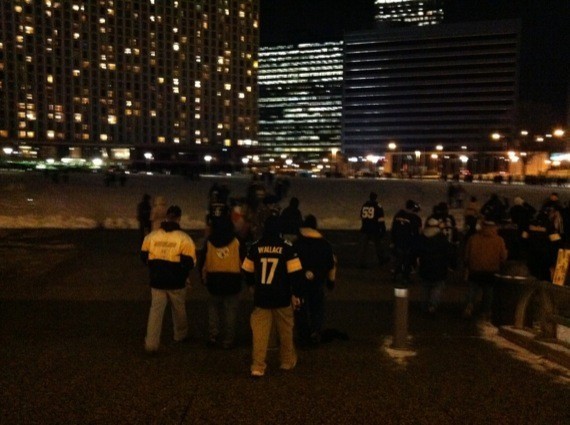 01/23/2011 11:04 PM EST
Leaving Heinz
The fans head back across the river to dahntahn after the game, content.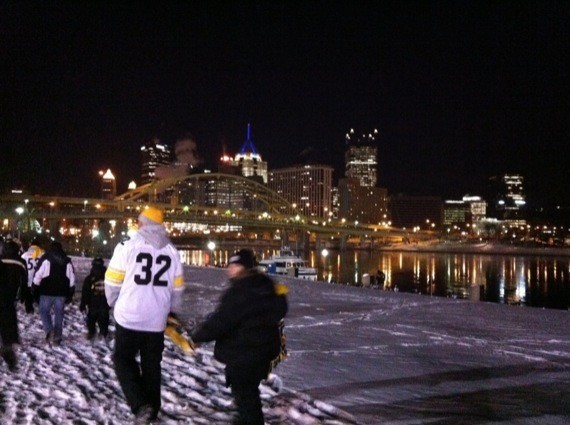 Heading home, the Point in the background.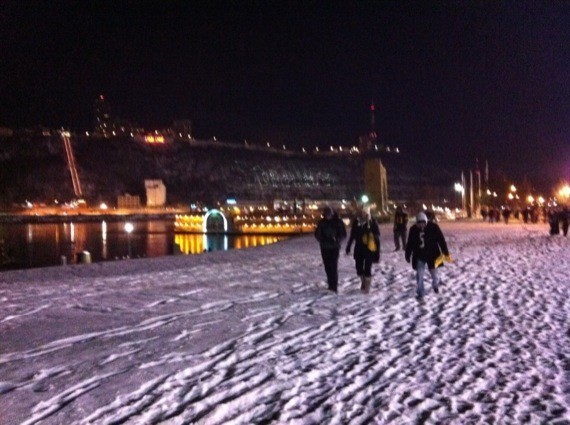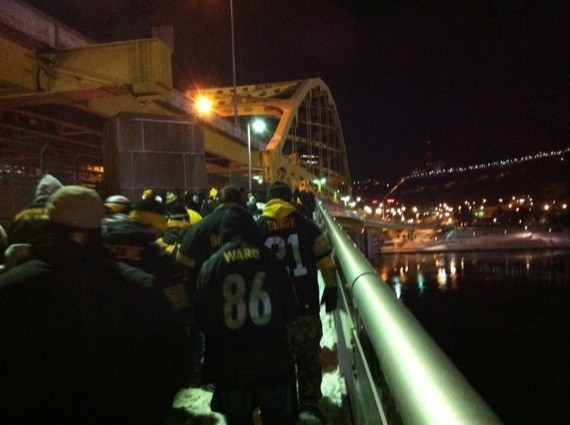 01/23/2011 11:00 PM EST
Celebrating
Howard Fineman writes: "After the steelers hung on for the victory, the fans stayed for the ceremony."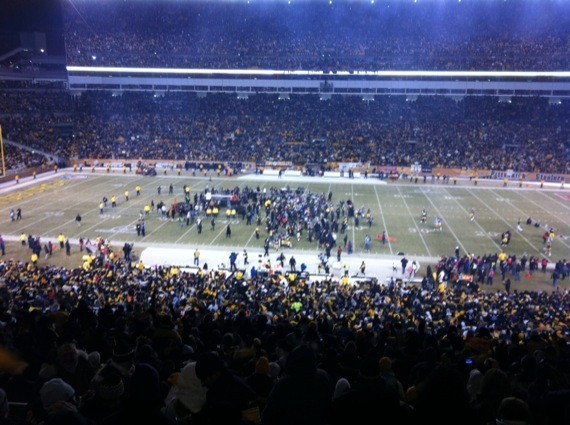 01/23/2011 10:04 PM EST
Dallas-Bound
Fineman: "We're going to the Super Bowl! Based on the best first half of football any team has played in a long time. Fans staying to sing 'Pittsburgh's Going to the Super Bowl!'"
01/23/2011 9:50 PM EST
STEELERS WIN
It's all over. Steelers win 24-19! Pittsburgh is going to the Super Bowl.
01/23/2011 9:48 PM EST
Steelers Win
Big Ben is taking a knee and the Steelers are going to win 24-19.
01/23/2011 9:47 PM EST
WOW
Big Ben throws a pass to Antonio Brown for a 14-yard gain and a first down. Time to take a knee.
01/23/2011 9:45 PM EST
Two Minute Warning
Steelers have the ball at New York's 40-yard line at the two-minute warning. It's third-and-6.
01/23/2011 9:38 PM EST
Blown Snap
Fineman points out that the crucial safety was caused by a botched snap from Doug Legursky, who came in when starter Maurkice Pouncey was injured early in the game. "They blew the snap. Just what I was afraid of. O Maurkice!"