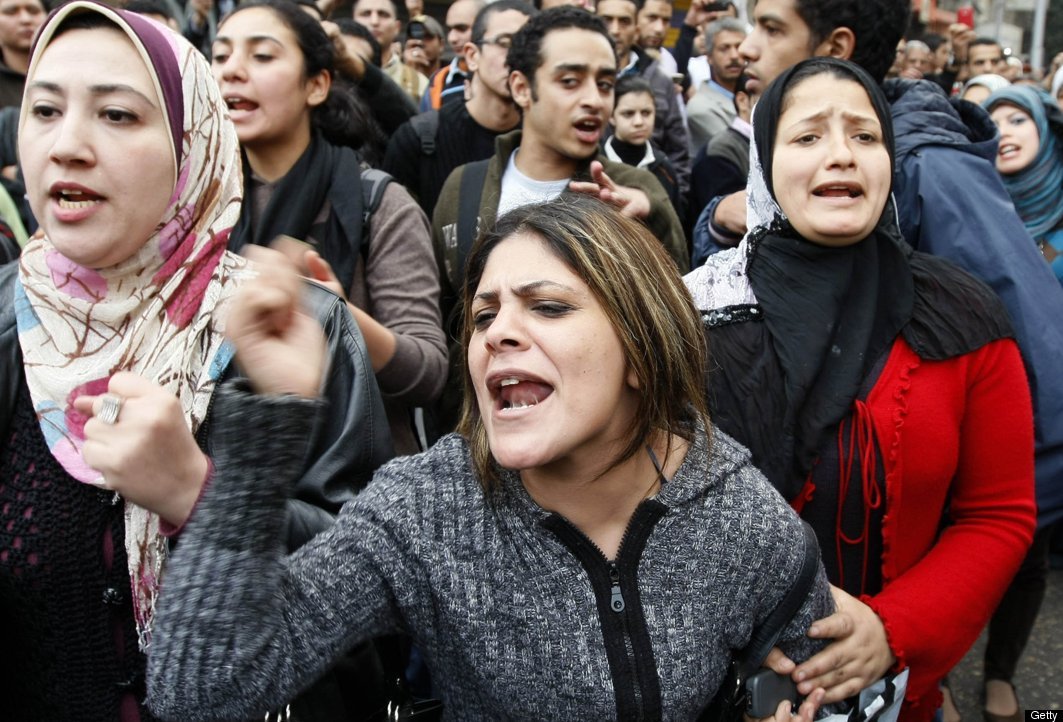 Having trouble digesting the Egypt revolution? Not sure about the latest events and why they matter? Or just curious to learn more about Egypt in general?
You've come to the right place. The Huffington Post is aggregating our comprehensive coverage into easily-digestible nuggets below to help those who feel overwhelmed. This page is 100% human-curated. It will be fluid and changing as major developments happen, so please keep checking back. And please share it with your friends, family and colleagues.
You can find our latest live blog here and get all the context you need below! Have a tip to share? Call 00-1-315-636-0962 or email us at egypt@huffingtonpost.com.
THE BASICS


What's Going On In Egypt?: Protests started on Tuesday, January 25, when -- inspired by the successful revolution in Tunisia -- thousands began taking to the streets to protest poverty, rampant unemployment, government corruption and autocratic governance of President Hosni Mubarak, who has ruled the country for 30 years. These were the first protests on such a large scale in Egypt since the 1970s. Read more here.

Why Egypt Matters: Why is the story gaining traction? There are a number of factors that make Egypt's unrest important, in both that country, the Middle East, and the world. Click here to see the top reasons why Egypt should matter to you.

What It's Being Called: The Egyptian revolution is also referred to as the Egyptian Protests, Days of Rage, the Papyrus Revolution and the Lotus Revolution.

Quick Facts About Egypt: Established in 3100 B.C., Egypt today has a population of approximately 79 million. Its people speak Arabic and 99% are Egyptian. The country staged its first modern revolution in 1919 and established independence in 1922. Continued instability due to remaining British influence led to a second revolution in 1952 and the creation of the Egyptian Republic in 1953.
TIMELINE OF KEY DEVELOPMENTS
ON THE GROUND
Award-Winning Egyptian Actor Mahmoud Kabil:

"[T]hat feeling of being uncertain, it's a lousy feeling. When you don't have anybody to protect you, no police, no army, no nothing, and you have to rely on yourself." Full Q&A here.
Deputy Middle East Director for Human Rights Watch Joe Stork:
"The atmosphere in Suez is tense; the big complaint is the absence of security. There is a lot of rubble in the streets from stone-throwing, street battles etc. The army is out in force." Read more.
Egyptian-born American Sahar Taman:
"[I]t is understandable why Egyptian citizens are on the streets today, braving tear gas and rubber bullets, defying curfews and enduring electronic blackouts. Quite simply, they have seen thirty years of suppression and intimidation, and they have had enough." Read more.
Follow our comprehensive Twitter list of more than 100 for on the ground reports in real-time. Sulia is also aggregating real-time updates from Egypt experts here.
WHO'S WHO


BIO: Pres. Hosni Mubarak


BIO: V.P. Omar Suleiman


BIO: Mohamad ElBaradei


BIO: Muslim Brotherhood

BIO: Egyptian Military

BIO: Egyptian Police
PHOTOS

Egypt Celebrates

On The Ground Pictures


First Day Of Protests


Second Day Of Protests


Tweets On The Ground


U.S. Protests In Support
VIDEOS

YouTube's CitizenTube


WATCH: The Most Dramatic

Protest Videos


WATCH: Protestor Shot By Authorities (GRAPHIC)


WATCH: 8-Year-Old Schools

President Mubarak


WATCH: President Mubarak

Spoofed On SNL