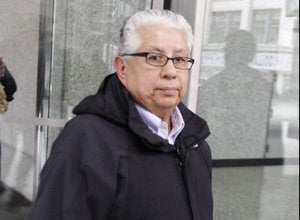 The former commissioner of the Department of Streets and Sanitation was sentenced today to 30 months in prison for directing city jobs to political foot soldiers.
Al Sanchez received the sentence as his successors at Streets and San were facing harsh scrutiny for its closure of Lake Shore Drive during the massive blizzard -- and the coincidence wasn't lost on him. While arguing that the city's corrupt hiring practices went much higher and wider than his office, he also pointed out that he would have kept the highway open had he still been in charge.
"He had a plan that kept the Outer Drive open all the time," Sanchez attorney Thomas Breen said to the Sun-Times.
[Breen] referred to the "elephant in the room," saying that "everybody at City Hall" knew all about the hiring system.

While Breen never elaborated on what he meant by the comment, Sanchez, speaking with reporters after court, said he believed Breen was referring to Mayor Richard Daley.

As for whether he believed Daley established the hiring practices, Sanchez said: "I wished someone had stepped forward to say, 'This is the process. I didn't make this up.'"

The process to which he was referring was described as "rotten to the core" by District Judge Robert Gettleman.
As well as the Streets and Sanitation chief, Sanchez was also the de facto leader of the Hispanic Democratic Organization, a group was founded to support Mayor Daley in the Latino community and ended up being one of the most powerful political forces in the city.
Sanchez was convicted of forging resumes, falsifying ratings, and extending application deadlines to get jobs in his department for loyal workers in the HDO, as the Sun-Times reports.
The charges against Sanchez were the last from the U.S. attorney's long-running investigation of the city's Hired Truck program, a scandal that rocked the Daley administration.