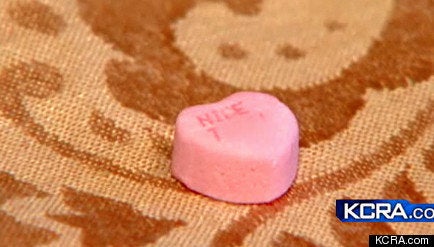 "Adult" heart candy is out there, but it isn't everyday it finds its way to a 12-year-old girl.
A North Highlands, CA girl got quite a surprise after opening up a package of classic Valentine's heart candies her parents had bought at a discount store. One sugary treat bore a more adult message than the rest
"Nice Tits!" it read, according to KCRA.
"I thought it was kinda shocking," said Ciara Bush, "I was reading them and I brought it to my mom after I saw it."

Her parents were stunned at what they saw.

"Nice Tits," said Derrick Deanda, reading the message printed on the small piece of candy that referred to a woman's chest.
The girl's parents emailed the candy maker and were quickly told to mail the candy and bag back to the manufacturer for further investigation. There have been no other reports of similar incidents involving the brand reports KCRA.