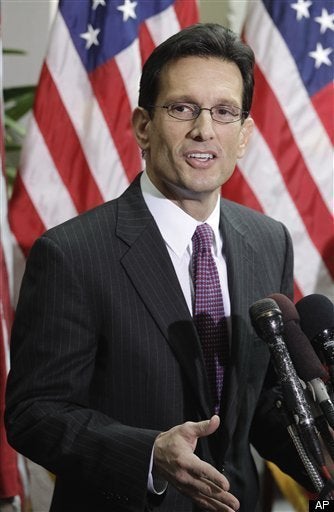 WASHINGTON -- House Republicans announced on Thursday that they would seek to cut $100 billion from President Obama's proposed fiscal year 2011 budget in an upcoming bill to extend government funding-- a jump from the $74 billion figure originally announced by GOP leadership.
The actual cuts will be closer to $60 billion, because the $100 billion figure is based off of a 2011 budget that was never approved. Still, cuts in a bill to be released tomorrow will be substantially deeper than the trim the House leadership originally said they would make, putting hundreds of government programs and discretionary funds in jeopardy.
Republicans arrived at a final agreement for the continuing resolution at a caucus meeting on Thursday evening, where members debated exactly how much to ax from spending after pressure from some of the 87 freshmen. The GOP promised $100 billion in cuts--a return to 2008 spending levels--in its Pledge to America in September, but backed away from the figure when it came time to lay out plans for funding the remainder of the fiscal year. Budget Chairman Paul Ryan (R-Wis.) announced on February 3 that the party would push for $74 billion in cuts from the 2011 budget proposal (amounting to about $32 billion in actual spending cuts) to the dismay of some newer members of the caucus, who said the cuts should go farther.
Republican leadership met with freshman members on Thursday and found a minor revolt on their hands. Conservative members said the $74 billion figure was not enough to live up to the Pledge to America, despite leadership arguments that a lower figure was necessary because the fiscal year is almost halfway over.
Conservative members won the argument: The bill will include higher pay cuts that would amount to $100 billion less than Obama's 2011 budget proposal. "What we heard here was a commitment to the $100 billion reduction number," Majority Leader Eric Cantor (R-Va.) said after the caucus meeting. "The freshmen want to make sure that this is a congress that can earn the respect of the people who sent them here and deliver on their promises."
GOP leaders said after the caucus meeting the spending cuts would go further than promised under the Pledge. "We will be cutting $100 billion plus--not just in the next year, but in the next seven months," Rep. Jeb Hensarling (R-Texas) said. "Not only does it fulfill the Pledge, it goes beyond the Pledge."
The bill could be taken up as early as Tuesday under a rule that will allow members to introduce additional amendments to cut more funds, Rep. Pete Sessions (R-Texas) told reporters outside of the caucus meeting. "I think people recognize that if you want to take it further you better go work it and talk to people and give them a reason why," he said.
The bill also must make it to a 218-vote majority in the House. Not an easy task, given the political difficulty of spending cuts and potential future revolts from members whose proposed cuts are passed over. Still, Republicans said they were confident they could meet the promise in their Pledge.
"Watch us," Sessions said.