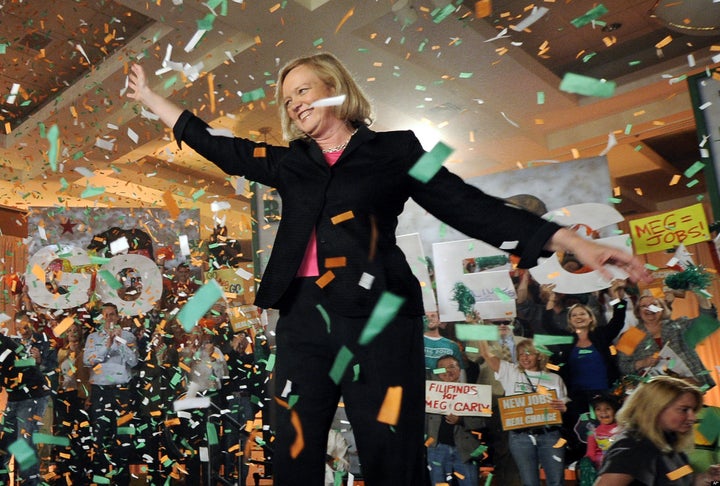 The candidate was poised, motivated and smart as a whip. She had an impressive resume, influential supporters and unlimited resources.
In the end, none of it mattered. Meg Whitman's Republican campaign for governor stalled over such issues as her alleged involvement in insider Wall Street stock deals and her alleged failure to pay her illegal-immigrant housekeeper.
It must have been frustrating indeed for the political professionals who ran the campaign. Whitman for Governor began with great promise, but it ended with a GOP official glumly declaring, "The Republican brand in this state is death."
On the other hand, payday was sweet.
The final campaign finance report filed by the former eBay CEO and novice politician itemized $177 million of payments from the most expensive campaign in California history. However ineffective Whitman proved in making her case against Democrat Jerry Brown, her campaign spread the wealth -- including $144 million of Whitman's own fortune -- to about 700 vendors, consultants and aides, records show.
California Watch last took a look at her campaign spending on Election Day. Here's a final update:
Overall, Whitman shelled out $1 for every 25 cents spent by Brown.
Smart Media Group, the Virginia-based company that booked Whitman's barrage of television spots, billed an astonishing $118 million -- more than double what Brown spent on his entire campaign. Most of that money was passed through to television stations.*
Other Whitman payouts were hefty as well. Republican campaign strategist Scott Howell was paid $5.5 million. The corporate jets of ACM Aviation cost $1.1 million. The campaign staff was well compensated: campaign manager Jill Hasner ($948,000); senior adviser Jeff Randle ($550,000); finance director Sara Myers ($439,438); deputy campaign managers W. Todd Cranney ($389,000) and Tucker Bounds ($324,572.)
In all, 21 vendors were paid more than $500,000 each. Here they are, from the secretary of state's office: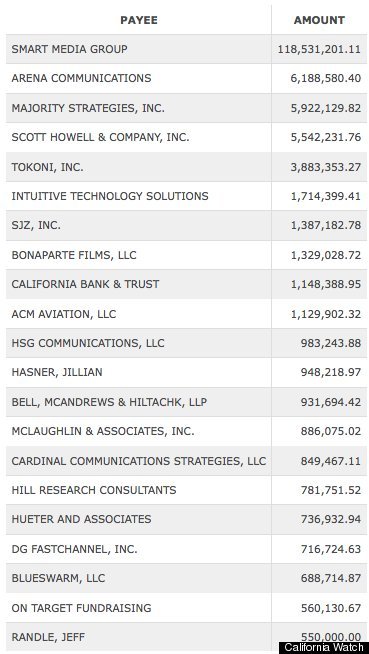 The single biggest check written by the campaign was $7,745,894, to Smart Media, on Oct. 10.
On that day the campaign was in meltdown as Whitman tried to fend off accusations that she had known the truth about her Mexican housekeeper's immigration status when she hired her nine years before.
In sum, Whitman spent more than $1 million on professional services, including accounting, and she kept the bookkeepers busy. The campaign wrote 35 separate checks of $1 million each -- all of them to Smart Media -- among more than 7,500 other itemized transactions.
On 20 different occasions, Whitman spent more than $3 million in a single day. On 20 other occasions, the campaign spent between $1 million and $3 million in a single day.
The campaign wrote more than 450 checks of $100 or less -- the smallest, $2.10, to Stevens Creek Office Supplies in San Jose in May 2009.
On Nov. 22, a campaign consulting firm called On the Ground Strategies billed Whitman $5, $8.76, $9, $12 and $40 for travel, lodging, meals or office expenses.
The items were among $4.11 million in bills that Whitman paid after losing the election.
*This sentence was added to the original version for clarity.