Schedules are getting tighter for the candidates as the election draws near. As we all start making our election night plans, (11 more days!) there is no shortage of political drama to keep us compelled. Today, we had dogs against the "Rahm Tax," another big endorsement for Rahm Emanuel and that awkward reparations-related exchange.
Stay tuned to HuffPost Chicago from now until February 22 for "The Countdown," a daily roundup of election news, gossip and other fun tidbits. You can also sign up to receive "The Countdown" via email daily by checking the "Chicago Brief" box here.
DOGS AGAINST 'RAHM TAX'

As we have reported several times before, candidate Gery Chico is against Rahm Emanuel's tax-swap proposal that would reduce the city's sales tax rate by a quarter percentage point by taxing luxury services that currently go untaxed (this includes pet grooming).
"You think getting your pet groomed is a luxury?" asked Chico at Soggy Paws pet salon on Armitage. "Everyone who has a pet knows you need to do that. It's not a luxury."
Ben LaBolt, a spokesman for Rahm Emanuel, disagreed.
"Gery Chico believes working families should continue to pay one of the highest sales tax rates in the country, and Rahm believes we should give them a 20% cut," he told NBC Chicago. Even the dog knows it's wrong to give tax preferences for mango-scented doggy facials but not for single moms struggling to buy school supplies."
These dogs disagreed: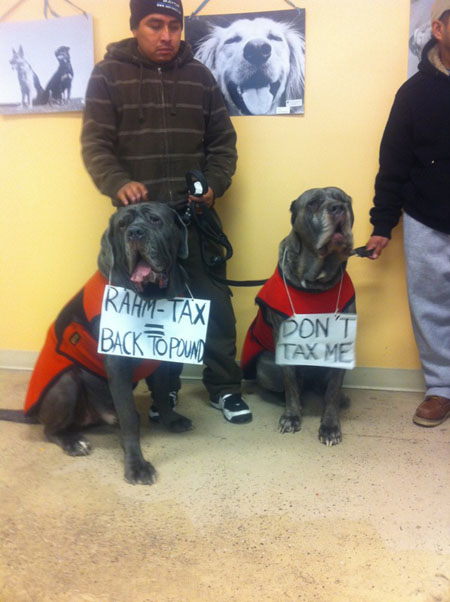 OUTSIDER VERSUS THE OUTSIDER

HuffPost Chicago's Will Guzzardi took an in-depth look at the 35th Ward aldermanic race, where Alderman Rey Colón, who won the seat as an outsider eight years ago, faces two challengers--and two scandals.
...ABOUT THAT DEBATE DRAMA

Earlier this week, we reported on the scheduling conflict between the LGBT Coalition's mayoral forum and the Chicago Defender's rescheduled debate. Basically, all six candidates committed to the LGBT forum until they heard days later about the rescheduled Defender debate. One of the LGBT forum's organizers, Anthony Martinez of LGBT Change, said he began getting a series of phone calls--candidates urging him to change the time of the forum, or asking him to start the forum earlier.
The Defender agreed to move their debate back 30 minutes, but fitting six candidates into a 30 minute window would be impossible.
Ultimately, Rahm Emanuel, Carol Moseley Braun and Miguel del Valle addressed the LGBT Coalition before heading to the Defender debate. Martinez said the LGBT groups on hand were impressed with all three candidates, who answered their questions and seemed to understand their concerns, which ranged from the rights of transgender residents to HIV/AIDS.
One thing Martinez wanted to clarify to HuffPost Chicago Thusday was a Facebook update Gery Chico's campaign made Wednesday night:

Martinez said they never agreed to a 5:45 p.m. speaking time, and explained to Chico when he showed up at 5 p.m. that it would not be possible. Both parties seemed apologetic, Martinez because Chico made the drive for no reason and Chico because he could not address the LGBT Coalition.
Patricia Watkins canceled her appearance at the LGBT forum, and William "Dock" Walls was not able to make it due to the Defender debate.
Read more coverage of the LGBT forum here, and the Defender debate here.
TWEET RECIPE OF TWO DAYS AGO

@JeppsonsMalort: The "Rahm Emanuel": 6 oz. Malort, poured into a swear jar and stirred with your right middle finger.
If you have any juicy gossip about the Chicago elections, or a story you think we should see, send us an email at chicago@huffingtonpost.com.