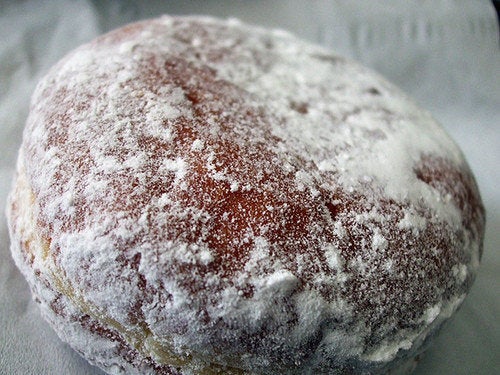 According to Dining Chicago, people in Poland celebrate "Doughnut Day" on Tlusty Czwartek, or Fat Thursday, but their Polish-American counterparts prefer to eat the round, Polish pastries filled with fruit and topped with sugar on the Tuesday before Lent, which falls on March 8 this year.
Bob Wolf, a Frankfort resident who grew up in a Polish neighborhood in Chicago, told Palos Patch that marking the tradition on Thursday is a mistake.
"Oh no, paczki[s] were always made for Fat Tuesday," Wolf told Patch. "That's how it started in Poland. People would clean out their pantries because we couldn't have all that sweet and fattening food around during Lent."
Instead of wasting the lard, sugar and eggs, Lent observers made a pastry similar to a doughnut, called a paczki.
Paczki Day is particularly popular in American cities with large Polish populations such as Chicago, Buffalo and Detroit.
Whether you want your paczki fix on Thursday or are waiting until Fat Tuesday, here are some Chicago bakeries offering the pastries:
Bridgeport Bakery, 2907 S. Archer Ave.
Delightful Pastries, Inside the Chicago French Market at 131 N. Clinton Ave., also at 1710 N. Wells St. and 5927 W. Lawrence Ave.
Oak Mill Bakery, click here for a list of their six locations in the city and suburbs.
For more options, WBEZ's Steve Dolinsky rounded up his favorite places for paczkis here.