Last week, we brought you The Psychometer to let you know who was winning the war on sanity. Since then, our world has changed. Here's a list of people who have gone too far this week. Let us know whether you agree!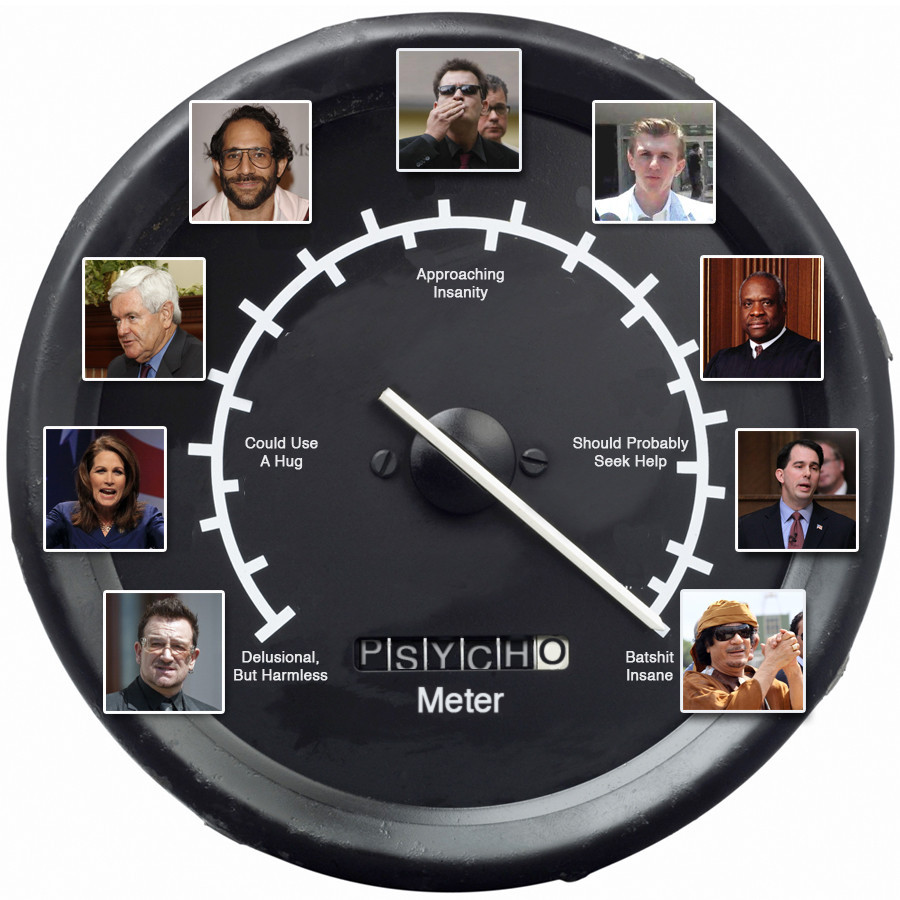 "Spider-Man: Turn off the Dark," the brainchild of Bono and The Edge, entered another week of a seemingly irreversible PR hell. But most of the world could have told them that a Spider-Man musical does not belong in the same oeuvre as "The Joshua Tree."
Rep. Michele Bachmann (R-MN) loudly demanded that President Obama "apologize to the American people" for "hiding" various costs in his health care law that have been visible from the start.
Newt Gingrich seems to have trouble understanding why American voters might view his past marital affairs as a problem for a potential presidential candidate -- a role which he won't confirm or deny he's planning on filling.
American Apparel founder Dov Charney has been slapped with a massive sexual harassment lawsuit from a former employee. Nothing's been proven, but rocking the "sexual predator" look all these years is, in retrospect, regrettable.
Last week Charlie Sheen was higher on the meter, but his public meltdown has become less entertaining as it's dragged on. But his recommendation to pull Rob Lowe off "Parks and Recreation" to replace him on "Two and a Half Men" is enough to warrant him a spot this week.
James O'Keefe, the "conservative activist" whose prior work includes discredited misrepresentations of ACORN and an embarrassing attempt to entrap a female CNN correspondent into a sex scandal, put NPR on the defensive by taping a top executive calling the Tea Party racist. (Which we all know is a ridiculous accusation.)
Associate Supreme Court Justice Clarence Thomas continues to explain that his wife's involvement in a top lobbying group intent on repealing the Affordable Health Care Law will not constitute a conflict of interest when the Supreme Court hears the case. With a straight face.
Wisconsin Governor Scott Walker's continued refusal to budge from his stance of ending union workers' collective bargaining rights in the face of massive public outcry moves him to a higher spot on the meter this week.
Libyan "leader" Muammar Gaddafi belongs on his own meter. His country is on the brink of civil war and the unrest is leading to more and more violence by the day. We hope the conflict ends quickly and peacefully.