Clarification appended
When Mohammed Shukran took some time off from driving his cab to care for two ailing family members in 2009, he began worrying about the mortgage on his Flushing, N.Y., home. He enlisted the services of a company called Save My Home, which charged him $3,000 for a promise to get his bank to lower his monthly mortgage payments. The company advised that it would take 60 to 90 days and that he should stop paying his mortgage in the meantime.
Shukran, 63, said that after he paid the fee and stopped making mortgage payments, he received default notices from his bank. He said Save My Home told him to ignore the warnings.
Two months later -- after a cascade of late fees, penalties, default notices and dings to his credit history -- Shukran, concerned that Save My Home was trying to scam him, decided to resume making his mortgage payments. After about a year, while Shukran was unsure if Save My Home was doing anything on his behalf, Chase Manhattan told him his loan modification had been denied.
"They played games with us," Shukran recalled of his interactions with Save My Home. "We gave them the letter and said, 'Look, the bank denied our loan. Give us our $3,000 back.' But they said no."
Shukran never received a refund, even though, according to his lawsuit against the company, he signed a contract stating that Save My Home would return most of his money if the company failed to get his loan modified. He said he now owes about $10,000 to the bank, on top of his $1,500 monthly mortgage payments, as a result of his run-in with Save My Home.
"I have a lot of stress in my life," he said, "and these people gave it to me."
Shukran is now one of nine plaintiffs in what a lawsuit filed last week in Nassau County Supreme Court describes as an "elaborate network" of affiliated companies that have operated under such names as "Save My Home," "Save My Home Now," "Express Modifications" and "Express Home Solutions."
"In typical fashion, these entities pose as experts on mortgage modification issues and promise various relief services in exchange for upfront fees," the Lawyers' Committee for Civil Rights Under Law, an advocacy group which filed the lawsuit last week with help from pro bono attorneys from Davis Polk & Wardwell, said in a statement. "Ultimately, the companies fail to provide the promised services, cheating vulnerable homeowners out of thousands of dollars and leaving them in financial turmoil."
Save My Home's current iteration, according to the Lawyer's Committee, is Empire Home Savings. That company didn't respond to repeated interview requests. Eunice Rho, the counsel representing Shukran and other plaintiffs in the lawsuit, said Save My Home and its affiliates have routinely changed office locations, company names and phone numbers.
"The result is that it's become virtually impossible for former clients to get in touch to ask about progress or a refund, and it makes it very difficult for anyone to keep track of what they're doing," Rho said.
Although Shukran and homeowners like him are eligible for free mortgage advice from government-certified counselors, he has instead become part of a wave of people preyed upon by an industry adept at snaring desperate homeowners with false promises of mortgage relief.
At least 30 states have passed laws to crack down on loan modification scams, and in January, following a 2009 directive from Congress, the Federal Trade Commission issued a new rule forbidding "Mortgage Assistance Relief Services" from engaging in certain practices. The MARS rule is modeled on existing state bans: It prohibits companies from making lofty modification promises or charging upfront fees before a homeowner has signed a written agreement -- and it also forbids them to tell homeowners not to talk to their lenders, a tactic experts say scammers use to isolate homeowners from lenders who might otherwise warn them that there's a problem.
With mortgage servicers often unwilling to modify loans, homeowners have increasingly turned to purported modification experts for help -- and complaints about ripoffs have mounted. The FTC said it received just six complaints about mortgage modification or foreclosure relief scams in 2008. That number shot up to 8,724 the following year, reaching 16,584 in 2010.
"The fact is, if you're a homeowner trying in good faith to negotiate with your servicer, good luck," said Ira Rheingold, director of the National Association of Consumer Advocates, a nonprofit coalition of lawyers and other advocates. "So what you have are a lot of very desperate people. When you have lots of desperate people, all the scam artists and people looking to make a quick buck come out of the woodwork."
LEEWAY FOR LAWYERS
Because MARS companies are small and haven't been around for very long, it's difficult to estimate just how many are out there, but the FTC estimates that there are at least 500. State governments have investigated 450 alleged scams and filed hundreds of lawsuits against MARS companies in the past three years.
Although there is a federal ban on upfront fees for mortgage mods, lawyers arranging modifications enjoy an exception to that rule, provided they obey state laws and put fees in a trust account until services are performed. The American Bar Association argued to the FTC in a March 2010 letter that such exceptions were warranted because totally disallowing upfront fees "would make it difficult or impossible for many consumer debtors to obtain the legal services that they desperately need to help negotiate changes to their residential mortgages with their lenders and keep their homes."
Florida attorney Robert Rosenwasser certainly sees things this way. He says his $2,000 upfront fee for a loan modification is much cheaper than what it would normally cost to hire a lawyer. He says he has about 400 clients and modifies about 25 mortgages every month.
"We have made the highest quality foreclosure defense accessible to working class people," Rosenwasser said in an interview. "We are, I would say, a consumer advocate firm. I look out for my clients. I consider them chickens to be plucked by what I consider a very unscrupulous real estate market, and the banks are extremely unclear on what they will do in regard to loan modifications."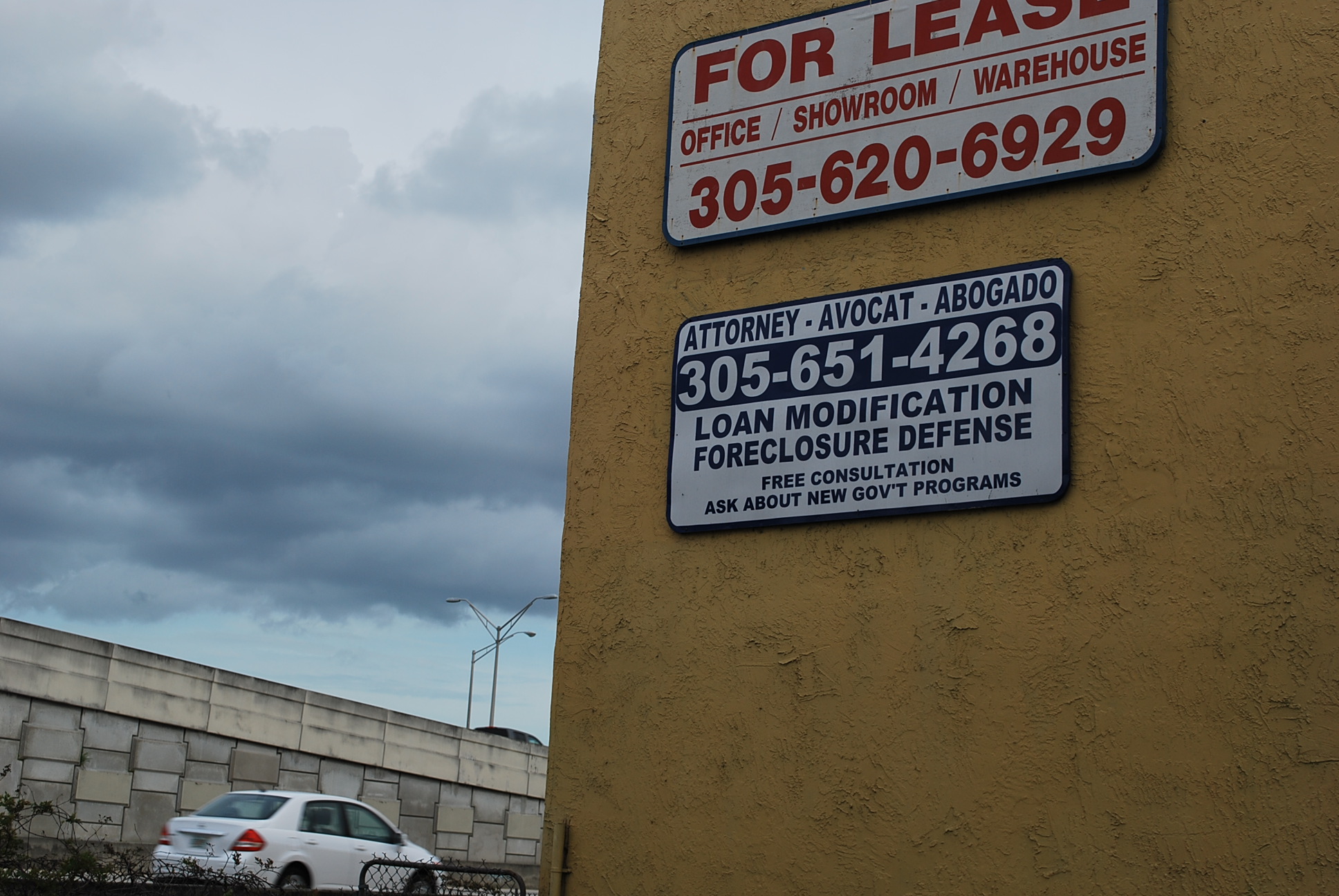 A sign outside Rosenwasser's Miami office -- "ASK ABOUT NEW GOV'T PROGRAMS" -- boasts of free consultations for loan modifications and foreclosure defense for prospective clients. Photo by Laura Bassett.
And Rosenwasser bridles at any suggestion that he doesn't deliver for homeowners. He objects to a February HuffPost story about a client who complained that Rosenwasser failed to win a promised modification, even though the client's bank confirmed that it didn't receive all the paperwork it needed from Rosenwasser to process the modification.
"How about a retraction. Have you no shame," wrote Rosenwasser in one email on Feb. 25. In another email, he wrote, "You wanted a sexy story at my expense, why don't you have the professional integrity to recognize that the entire scenario was a fabrication."
While Rosenwasser played an early role seeking a modification in that case, the client, Julio Salazar, only got one after a friend independently pestered the bank and sent in a complete financial package, without any help from Rosenwasser. Emails between Salazar's friend and bank executives show that the bank considered the material Rosenwasser supplied for Salazar's modification "deficient."
Rosenwasser told HuffPost he refused to refund Salazar's upfront fee, despite having failed to modify either of his mortgage loans, because Salazar broke his contract by having a friend interfere with the process. He defends the fees he charges clients, maintaining that lawyers "are always allowed to charge up front fees in the jurisdiction they practice."
The state of Florida banned upfront fees for loan mods in 2008, but the law exempts lawyers who provide foreclosure-related services if the foreclosure relief is "ancillary" to the lawyer's representation of the homeowner as a client. In other words, lawyers can't make modifications the central reason they're doing business with a client in order to be eligible for the exemption -- though experts say the term "ancillary" can be subject to interpretation.
In a follow-up interview, HuffPost asked Rosenwasser if his business fits that definition.
"The truth is, I don't know. I never had a problem with charging upfront fees. As far as I know attorneys have always been exempt," he said. "I've never had an issue with the Florida bar with charging people for foreclosure defense and I've never even looked into it. I never looked at the statute. I've always been under the -- maybe it's a misunderstanding that as an attorney I can charge people these fees."
A spokeswoman for the Florida Bar said that it has several investigations into Rosenwasser's practice "regarding loan modification, pending at the Grievance Committee level." Rosenwasser said that the Florida Bar hasn't said anything to him about his upfront fees.
Federal law requires any money lawyers charge upfront to be placed in a trust account and not withdrawn until some lawyering is done. "We don't put anything in escrow," Rosenwasser said.
So what does Rosenwasser's office provide for $2,000 that homeowners can't get for free from a housing counselor certified by the Department of Housing and Urban Development?
"The HUD-certified counselor's going to be gone in three weeks or two weeks or that weekend," Rosenwasser said. "We're going to be there three months later. And the process in my office that they begin with is gonna be with them for six months. The HUD-certified counselor is not reachable after a couple weeks."
"Additionally, we speak Creole in our office, we speak Spanish in our office," he said. "We can overcome language barriers."
But HUD, too, offers a huge array of multilingual services, including Creole, Spanish, Russian, Vietnamese and Tagalog. Its counselors can follow individual cases for many months, HUD says.
"The average amount of time spent on default counseling is eight hours, and this is typically spread out over numerous interactions," HUD spokesman Lemary Wooley said. "This takes much more time and is more intensive than any other form of housing counseling. With free, quality services available, nobody should pay for foreclosure prevention counseling."
Marta Miller, 59, is another dissatisfied Rosenwasser client. When she lost her manufacturing job in Durham, N.C., in September 2009, she said her first priority was to work out a loan modification so she wouldn't fall behind on her payments and ruin her credit.
She said her bank, SunTrust, told her it wouldn't work with her to lower her monthly payments until she actually missed one, which she couldn't bring herself to do. "They said to get late, but that wasn't gonna happen," she recalled. "I'm never late on a payment."
SunTrust declined to comment on the case. "While we are not at liberty to discuss a specific client relationship or our internal policies and procedures," a spokesman said in an email, "generally speaking we work with clients on a case-by-case basis regarding potential loan modifications taking into account investor guidelines and the fact that every situation is different."
(Any borrower who is told to make late payments in order to get a modification should beware: even borrowers current on their mortgage are eligible for modifications.)
After getting nowhere on her own, Miller said she reached out to a Florida-based company called Friendly Financial Services, which promised her that in return for a $1,500 advance fee, they would have her loan modified within 30 to 60 days. She paid the money, and the company handed her case over to Rosenwasser.
"They said it would take one or two months, and [a Rosenwasser staffer] was supposed to call me back once a week to update me on my file, which she never did," Miller said. "Eventually she stopped returning my calls altogether, and they told me she had been in a car accident."
After more than six months of waiting, Miller said Rosenwasser's office finally called with a disappointing offer: Her bank had only agreed to lower her interest rate by three-fourths of a percentage point.
"I started freaking out, because I got a letter from the unemployment office around that time saying my benefits were ending in May," she said. "I thought, 'I'm not finding a job, I'm not getting unemployment, we're really gonna be in trouble.'"
Miller says she complained to Rosenwasser's office that they had not upheld their end of the deal, and his staffer told her that she should request a full refund since the bank was unwilling to work with them. But when she went to request the refund, she said she was denied because she had "broken her contract" by running out of unemployment benefits.
"My unemployment hadn't even run out yet," she said. "How did I break an agreement? I have no control over that. But they said part of the agreement was that I had to have a regular source of income."
Ultimately, Miller said her husband was able to refinance the loan on his own, but the Millers never received a refund from Rosenwasser.
"They scammed me big-time. It just makes me angry that these people, when you're down and out, they just throw you under the bus," she said. "With that $1,500, I could make three mortgage payments. And there's no telling how many people out there lost their $1,500."
Rosenwasser said Miller got what she paid for. "She did get a loan modification," he said. "She didn't like it, but she got one."
Maine and New Hampshire regulators have both issued cease-and-desist letters (PDF) to Rosenwasser for violating local laws by charging residents of those states upfront fees for mortgage modifications. Each state's order says local homeowners were put in touch with Rosenwasser by Friendly Financial Services. Maine's order refers to the company as an alias for Rosenwasser.
Phone numbers listed online for Friendly Financial Services are disconnected. "I ended up shutting them down. I threatened to call the FBI if they don't stop using my name," said Rosenwasser, who contends that the only problems his office has had were with out-of-state clients solicited by the company. "They had certain criteria they were supposed to bring people in on and they did not meet all their criteria."
Rosenwasser said he now only takes clients from Dade and Broward counties in Florida. He also said he's invested thousands in proprietary software that allows his office to track the status of pending modifications, and said he would put the HuffPost in touch with some satisfied customers. He eventually provided phone numbers for three people, only one of whom was willing to speak about his modification.
"He got me a loan modification in five to six months," said Fritzner Estinfil, a 42-year-old Miami resident who said he paid $2,000 for the mod. Asked if he was satisfied with the results, he said, "Pretty much."
THE SAVIOR
The federal government is supposed to be helping distressed homeowners modify their mortgages through the Home Affordable Modification Program, or HAMP, which launched early in 2009 with the goal of modifying mortgages for 3 to 4 million homeowners.
But HAMP is falling short, according to its own data. Fewer than 600,000 homeowners are currently in so-called "permanent" five-year modifications, while more than 800,000 have had their modifications canceled. Borrowers who meet eligibility criteria -- including monthly mortgage payments amounting to more than 31 percent of their monthly income -- are supposed to be placed into permanent modifications if they successfully make reduced payments during a three-month "trial" modification. Many trial modifications have inexplicably dragged on for longer, and banks participating in the program have become notorious for losing paperwork. Confronted with banks violating program guidelines, the Treasury Department, which administers HAMP, says it can't punish bad banks because HAMP is voluntary.
The performance of the mortgage servicing industry itself has been so riddled with abuses -- "robo-signed" documents and questionable foreclosures among them -- that a coalition of all 50 state attorneys general, in a partnership with federal agencies, is trying to pry a multibillion-dollar settlement from banks.
Some of the roots of the current battle against modification scams can be traced to a spate of foreclosure ripoffs in Minnesota from several years ago. The state ended up banning deals in which companies took control of homes from distressed owners by promising to prevent a foreclosure. Other states followed suit, also banning foreclosure rescue deals -- and forbidding consultants from charging upfront fees for their services, a hallmark of the current mortgage modification scams.
To be sure, not all mortgage modification companies appear to be engaged in fee gouging and related abuses. According to a 2009 survey by the National Community Reinvestment Coalition, a nonprofit homeowner advocacy group that used "mystery shoppers" to examine 115 for-profit loan modification companies, most of the companies surveyed didn't ask for upfront fees after promising to engineer a modification.
Still, more than 50 percent of the companies the NCRC surveyed committed the ultimate no-no: They advised the mystery shoppers to stop making mortgage payments and to stop talking to their lenders.
That's the kind of advice that Hassina Ansary of Springfield, Va., has experienced firsthand. She said that she sought help with her mortgage early in 2008 after an interest rate adjustment jacked her monthly payments to $2,800 from $1,900. She moved with her three children to her parents' basement and took on tenants at the house. For help with the mortgage, she turned to a company called the Shmuckler Group, which, lo and behold, charged her $2,000 upfront and told her to stop making mortgage payments, according to a lawsuit Ansary filed against the Shmuckler Group in federal court in Fairfax, Va., in September 2009.
Like Rosenwasser, the Shmuckler firm, based in Virginia and run by Howard Shmuckler, advertised itself online as "having direct insight" on the Obama administration's anti-foreclosure efforts. According to Ansary's lawsuit, the company advised Ansary to ignore late notices on missed payments and told her that foreclosure notices were a normal part of the modification process. By the end of 2008, Ansary's house had been sold to the highest bidder in a foreclosure auction on the steps of the Fairfax County Courthouse.
With the help of a nonprofit legal aid group, Ansary filed her suit against Shmuckler and last May a Virginia jury ordered Shmuckler to fork over $686,600 to Ansary for charging bogus fees and losing her home.
Around the same time Ansary won her judgment, a Washington, D.C. grand jury indicted Shmuckler for bank fraud for allegedly cutting himself $2.4 million worth in phony checks in 2005. Shmuckler is represented by a federal public defender and the case is ongoing.
Last year, the State of Maryland slapped the Shmuckler Group with a cease-and-desist order, accusing it of bilking 372 Maryland homeowners out of $1.2 million through bogus promises of loan mods. Then, last November, a Maryland grand jury indicted Shmuckler for theft, conspiracy to commit theft and operating as a credit business without a license. The case will go to trial within the next six months, said Doyle Nieman, who is an assistant state's attorney and also a member of the Maryland House of Delegates.
"In our efforts to protect the citizens of Maryland, we have spent over two years working to put a halt to loan modification scams and the Shmuckler Group is among the worst that our investigators have uncovered," said Mark Kaufman, Maryland's Commissioner of Financial Regulation, in a public statement last November.
The Shmuckler Group ceased operations in 2009, but Shmuckler himself, who is 67 and lives with his wife in Virginia Beach, is unapologetic about how he ran his former business (he has not commented publicly on the legal actions pending against him). His defunct company's website still maintains that of 1,100 customers served, "approximately 900 are in their homes today making affordable mortgage payments to the satisfaction of the financial institution, their families and the communities in which they reside."
When HuffPost reached Shmuckler over the phone two weeks ago, he said in a quiet, gentle voice that all the information needed to respond to reporters' questions could be found on his website, www.HowardShmuckler.com. Then he hung up.
The website redirects visitors to www.TheyKilledTheSavior.com, where visitors are greeted by a cartoon character resembling Shmuckler who revels in how much Shmuckler has done for distressed homeowners.
"No, Howard Shmuckler cannot, does not and never claimed to grant Eternal Salvation or save a Soul from Eternal Damnation," Shmuckler's site says. "Did Howard Shmuckler and The Shmuckler Group, LLC save nearly a thousand (1,000) HONEST families from being out on the street - from being evicted from their homes once they fell behind on their mortgage payments? YOU BET HE DID!"
Shmuckler's site says heartbreaking foreclosure stories inspired him to do modifications. "Shmuckler thought back to the fate of his own family home, in 1958 when at the age of 15 he saw a foreclosure notice on his door. Shmuckler's father had died the year earlier and he realized his mother had been feeding her three children instead of making the mortgage payments just like most families were doing today." Shmuckler said he marched into the offices of his family's lender and explained the situation. "[T]hey renegotiated the existing mortgage payment of $22.00 per month down to $15.00 per month and with a handshake Shmuckler took on the payment responsibility by working full time after school. That was the first mortgage modification of its kind. Shmuckler understood it was the bankers' obligation to make money on loans - not to be in the business of selling foreclosed houses."
The site goes on to identify Ansary as the predator, using an "evil monkey" -- a character from the Family Guy TV series -- to pointing at a picture of Ansary. The header above the picture says: "BEWARE - THE REAL SCAMMERS"
"Hassina Ansary's failure to cooperate with either TSG or the lending institutions to provide proof of ability to make even the lower mortgage payments led to the foreclosure of her investment property," the site says. "To this day she continues HER FRAUD AND SCAM by collecting rental income on this property."
Ansary, who works as an administrative assistant in a doctor's office, has sued Shmuckler for defamation and denies everything he's written -- including the assertion that she continues to collect rental income on her former home.
In July, Ansary filed a civil complaint to get Shmuckler to sell his Virginia Beach house to pay the judgment she'd been awarded last May. Shmuckler is now fighting to save his own home, a spotless two-story brick house in a brand-new Virginia Beach subdivision where the cul-de-sacs are lined with saplings.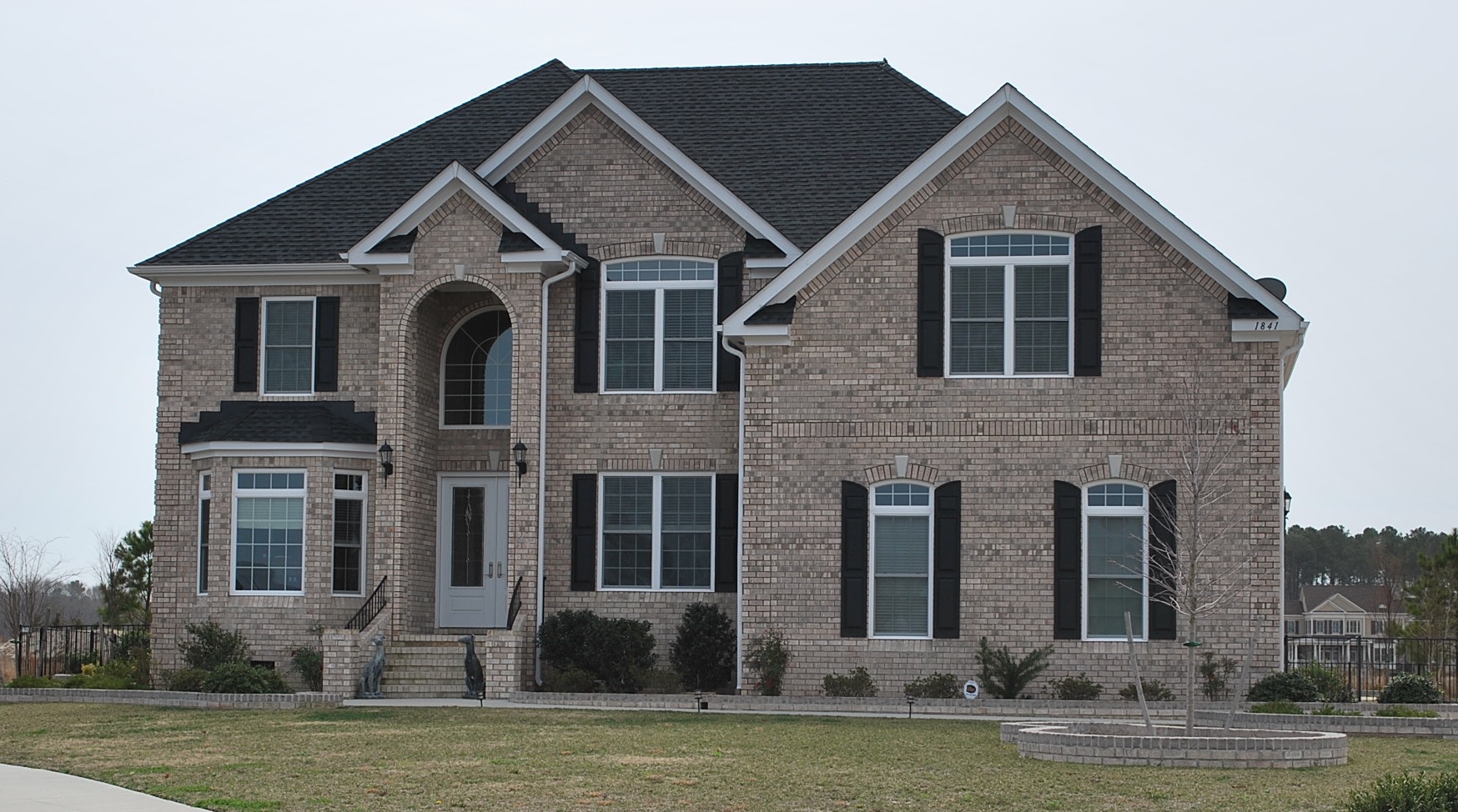 Photo by Laura Bassett.
In the last month a Fairfax County judge awarded damages ranging from $3,000 to $48,000 to 103 of Shmuckler's former clients, all of them Latino residents of Virginia represented pro bono by D.C. law firm Howrey LLP, according to Martin Cuniff, a lead attorney on the case. The lawsuits alleged that Shmuckler and his associates defrauded the homeowners with phony promises of modifications in return for big upfront fees. (Howrey dissolved on March 15.)
"[Shmuckler] is a very bright guy, very skilled, and he uses his skills to just defraud people," said Cuniff. "It's a whole world you and I don't see very often. It's just amazing."
THE ICEBERG
The Lawyers' Committee for Civil Rights Under Law, the group that is suing the "elaborate network" of mortgage modification predators in New York, launched a database last year to track modification scams and try "to get a clear picture of the loan modification scam crisis nationwide." The group is sharing data with the FTC and other organizations.
The group's National Loan Modification Scam Database received more than 11,060 complaints between January of last year and February, totaling $28.2 million, according to Yolanda McGill, a senior attorney with the Lawyers' Committee. McGill said there's no way to know how many scams go unreported.
"What we have is probably just the tip of the iceberg," she said.
Clarification: A photograph including the name of Ben Salem Properties has been removed from this post by the editors at AOL/The Huffington Post. The original publication of this photograph was in no way intended to suggest or imply any involvement between Ben Salem Properties and any individuals, businesses, or organizations named in the accompanying report.