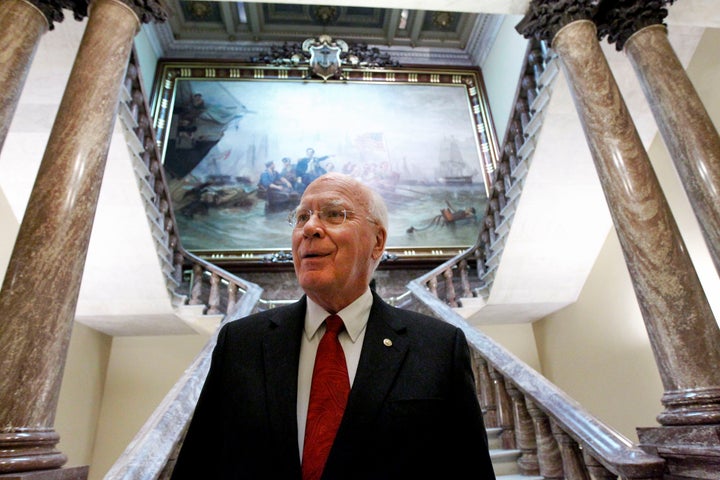 WASHINGTON -- Sen. Patrick Leahy (D-Vt.) is lobbying President Obama to appoint Sean Cota, a Vermont business owner and an advocate of the regulation of the derivatives trade, to an open seat on the powerful Commodity Futures Trading Commission. Leahy sent a letter to the president on Wednesday backing Cota's appointment.
Leahy's pick for the panel runs Cota & Cota, a longtime family-owned home heating company based in Vermont. Cota was active in the Commodity Markets Oversight Coalition, an alliance of small businesses, consumer advocates and other "end users" of derivatives. Cota was a fixture on the Hill during Wall Street reform, articulating opposition to dark derivatives markets and serving as a counter balance to industry lobbyists who insisted that regulating derivatives and clearing them in the open on an exchange would increase the cost of hedging risk. He was part of a powerful coalition of unlikely allies who lobbied to bring derivatives trading into the sun. He's a past chairman of the New England Fuel Institute, which lobbied on behalf of reform.
Leahy is a senior member of the Senate Agriculture Committee, which has jurisdiction over CFTC nominations - a relic of the days when commodity futures were used primarily by farmers to hedge pricing risk. Some small businesses still rely on derivatives to hedge against the risk of inflation or price swings, but because most derivatives aren't traded on exchanges similar to the stock market, small end users of swaps have little way of knowing whether they're paying a fair price or getting gouged on fees.
Leahy, a Democrat from Vermont, is also chairman of the Judiciary Committee, a powerful spot and one that controls the flow of judicial nominations that the administration wants confirmed. A White House that wants its judges confirmed can resist only a small number of entreaties from the panel's chairman. Were Cota to be nominated, he'd face an uphill climb in a Senate that is approaching stalemate on confirmations, as Democrats lack the 60 votes needed to overcome a filibuster.
The CFTC is currently led by Gary Gensler, who was initially greeted by liberal Democrats with great suspicion for his role in pushing deregulation in the 1990s and his long stint at Goldman Sachs. He has since had an ideological conversion, putting him firmly on the pro-regulatory side, and counts among his allies some of his former opponents. Cota and Gensler hold many of the same positions, but the two arrived at them by starkly divergent paths.
Gensler was shocked out of his deregulatory mindset when the dark derivatives market nearly brought down the global economy. Cota, meanwhile, watched fuel prices in Vermont fluctuate over the years while the cost of hedging continued to climb.
"Sean has years of experience working with me and other members of Congress on financial reform efforts," Leahy wrote in the letter to the president, which was obtained by HuffPost. "An early voice warning of manipulation and fraud needlessly driving up the cost of energy to American consumers, Sean has testified before Congress and the CFTC nine times on commodity markets and financial derivatives. His knowledge was integral in the drafting of key commodity, swap, and derivative provisions of the Dodd-Frank Wall Street Reform and Consumer Protection Act."
Spokespersons for Leahy and the White House weren't immediately available.