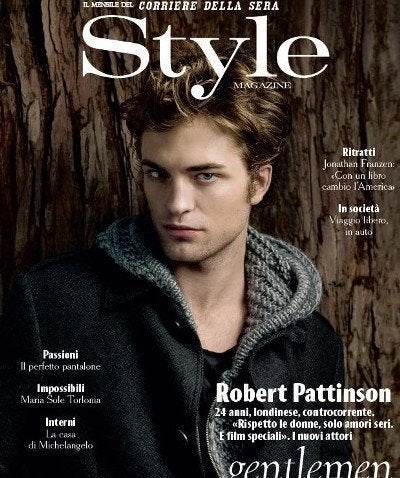 Robert Pattinson is Edward Cullen, but Edward Cullen is not Robert Pattinson.
The "Twilight" and soon-to-be "Water for Elephants" star opens up in a candid, thoughtful interview with Italy's Style Magazine (parent newspaper: Corriere della Sera). The actor best known for being a vampire talks about his childhood, his relationships, his career, and, oh, his co-star Kristen Stewart, whom most assume he's been dating for a number of years.
Here's an excerpt of what he has to say; the full interview, translated to English, includes talk about his favorite actors, his childhood and more, and is available here.
On being an actor, and avoiding the trappings of fame:
I came to a point where I said: I'm going to be a professional actor, looking for the origins of my characters, making something real out of this ephemeral job. This will allow me to live the life I want to live, to be active in green politics, to be a citizen of the world. Fame is an handicap, not a privilege, it often complicates things. I try to not fall in the web of top class hotels, first-class flights, designers sending you tons of stuff, thousands of girls everywhere.
On keeping his private life private, including talk of Kristen Stewart, his rumored girlfriend:
My private life is off-limit. I've never spoken about my flirts, I'm not a man for short and superficial love affairs. I don't talk about my relationships with female friends, not to mention how I don't talk about my relationship with Kristen Stewart, an actress I admire because she's a real person, and a real actress. It was the chemistry I had with her helped me to get my role in Twilight. I don't let people take pics of the houses I rented both in New York and London. When I'm in L.A. I live mostly in hotels. You can live very well in the anonymity of a hotel room, especially when you have a piano to play.
And on his romantic future, and his outlook on settling down:
This is me, just me: I'm not interested in casual relationships, I need to know people, I'm not making an existential statement here: simply, I want a family, with 2 or 3 kids. Not funny? I really wish I could talk to animals more than to people who think they know me just from my movies.
The thing I do think about is, Oh my God, I hope they stay together. Because it could be awkward on set in the next movie if they have a huge falling out. It's like, Wow, they have to portray this love story through two more movies. God, I hope they stay together; please stay together. That's what affects my day-to-day... I think we're heading to that place where they are together and that's their life and we better find someone new to create drama out of.
PHOTO: