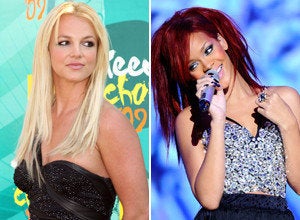 Two of the biggest pop stars in the world. Re-mixed together.
Rihanna already had scored a hit with her single "S&M," (racy video here) but the singer decided to take it to the next level. She asked her Twitter followers who they'd like to hear her work with -- and when the results came back, Rihanna got to work.
The result? "S&M," as remixed by Rihanna and Britney Spears. Rihanna dropped hints about who she'd be collaborating with with a series of tweets Sunday night, writing, "Its BRITNEY B**CH!!!!" and "MAJAH Rihmix to S&M MAJAH!!!! #S&Mrihmix #itsBRITNEYbitch".
LISTEN
: