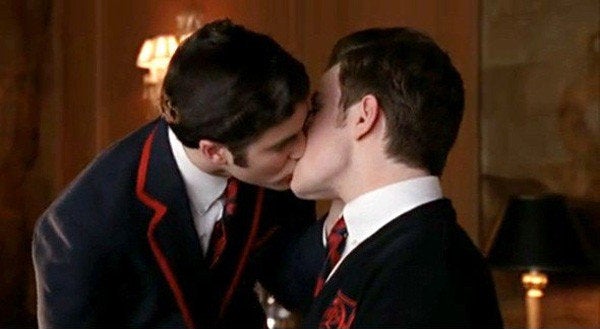 The subject of continued attacks by conservative and anti-gay commentators, Fox musical dramedy "Glee" got a vocal defense from the President of GLAAD, Jarrett Barrios, on Friday.
"Fair-minded Americans are tuning in by the millions to inclusive shows like 'Glee' and 'Modern Family' because they don't care whether someone is straight or gay – what they care about is seeing characters and stories they can relate to," Barrios told The Hollywood Reporter.
Before the episode even aired, conservative media critic Dan Gainor ripped creator Ryan Murphy, telling ABC News that it was Murphy's "latest depraved initiative to promote his gay agenda."
"This is clearly Ryan Murphy's vision of what growing up should be, not most of America's," he said. "It's a high school most parents would not want to send their kids to."
The show features Golden Globe-winning star Chris Colfer, who plays gay teen and choir star Kurt. He's battled bullying (from a closeted gay bully) and identity issues, and has this season began to date new cast member Darren Criss.
"I've watched it in stunned horror combined with a sense of admiring awe," he said. "It is a brilliant brilliant show...but it is a horror show...everybody in here is somebody your kids would want to be like, except everyone is sleeping with everyone else, it's all about self-gratification...it's a nightmare."
Those attacks were just the latest assault on the show; perhaps most prominently, former "Saturday Night Live" cast member Victoria Jackson ripped the show on her WorldNetDaily blog and on Headline News. The comments came after a buzzed about kiss between Colfer and Criss.
"Did you see 'Glee' this week? Sickening! And, besides shoving the gay thing down our throats, they made a mockery of Christians – again!" she wrote. "I wonder what their agenda is? Hey, producers of 'Glee' – what's your agenda? One-way tolerance?"
Then, on HLN, Jackson, a religious conservative, said, "Well, it doesn't matter what I think. What matters is what the Bible says. And I'm really concerned about our country because immorality is, well, let's see: secular humanism rules the airwaves, and it's stealing the innocence away from this whole generation of children. My daughter is a teenager and I cant find any show that she can watch."
"So in this episode of 'Glee' the writers have pretty much come full circle in their bigotry and intolerance," O'Connor wrote. "They did to us exactly what they feel has been done to gay people on television for years: provided a false and stereotypical character meant to convey a negative image and message to the viewer. There's a word for that: Defamation (for those of you paying attention, Defamation is what the 'D' in GLAAD stands for)."
Thus far, the American public has largely disagreed with the criticisms of the show; "Glee" is one of the top-rated scripted shows on TV, and its musical anthology releases have been so overwhelmingly successful that they've placed 113 songs on the Billboard Hot 100 chart, passing Elvis for most all time.