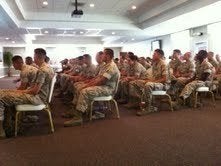 CAMP LEJEUNE, N.C. -- Lt. Col. Ken Kelsay spins out a scenario for a rec room filled with 70 fidgety Marines: One of their own, another Marine, is hanging around a gay bar and word gets back to the squadron commander.
"What should the commander do?" Kelsay asks, looking toward Sgt. Joshena Jamison, a 31-year-old computer technician. She stands at attention.
"Sir, I think she can't punish the Marine for going to a gay bar," Jamison says. "It's their choice of where they go. It's like punishing somebody going ... into a regular bar."
"Correct. Thank you. That's exactly right," Kelsay responds, reinforcing the message he is delivering to the class, which has gathered to learn how to navigate the issue of sexual orientation in the military once the "don't ask, don't tell" policy becomes history.
Lesson learned, Kelsay -- whose day job is as an electronics maintenance officer -- returns to his script, word for word, for nearly 90 minutes. Jamison will be the only other Marine to speak.
"As dry as it is, as much as we can stay to [the script], that's what we try to do," Kelsay tells a reporter after the class ends.
The by-the-book session made for less-than-scintillating footage for the five local TV stations the military had invited along to observe. And that was exactly the point.
"This is not the time to discuss your personal beliefs on religion, or homosexuality," Kelsay read from the Marine Corps' introduction. "The decisions have been made -- it is our job to professionally implement the changes."
As the Pentagon prepares troops for the repeal of the ban on openly gay and lesbian service members, the service branches have held a flurry of such small group sessions on sprawling stateside bases like Camp Lejeune, aboard aircraft carriers and at combat outposts in Afghanistan.
Gay rights groups say the majority of the training sessions, which began in February, have been professional, just-the-facts affairs.
"Some of the sessions are downright boring," said Aubrey Sarvis, executive director of the Servicemembers Legal Defense Network, which advocates for gays in the military. "We are not seeing the level of resistance that came about in training sessions surrounding women being admitted to the service academies or ending racial segregation in the ranks."
But only a handful of training classes have been opened to reporters. All have been carefully staged and instructors are expected to be on their best behavior, making the sessions the public face of what, behind the scenes, is a more complex process potentially fraught with pitfalls.
While gay rights advocates agree that a majority of sessions have been professional and by-the-book, there have been exceptions. According to secretly taped audio of a recent Marine training session obtained by The Huffington Post, as well as reports from an underground network of active-duty gay and lesbian service members and interviews with closeted service members, the classes have not been universally supportive of DADT policies.
Gay and lesbian service members say that some of the sessions have been punctuated by joking, snickering and eye-rolling by trainers and trainees.
In the taped session that Servicemembers United, a gay advocacy group, provided to HuffPost, a gruff gunnery sergeant states that most of the Marine Corps is against allowing gays to serve openly. But, like it or not, he says, the repeal is a lawful order and Marines follow orders. He then predicts a media circus the first time a Marine charges he or she has been assaulted because of his or her sexual orientation. He warns the group in a tone that suggests he doesn't altogether approve that the days of ribbing others as "fags" are over.
Such unvarnished talk is not the stuff of official Pentagon 'media opportunities.' But the unfiltered recordings and reports by closeted gay and lesbian troops, while not entirely objective, do suggest that implementing the new policy will not be a simple matter.
When Gen. James Amos was asked at a House Armed Services Committee hearing last month about "isolated" reports that some trainers were going through the material with "a wink and a nod," the Marine Corps commandant said that "really violates the very premise [that] Marines will get in step and do it smartly and follow orders." While Amos said he had heard concerns raised about billeting, housing, showers and general policy changes, he noted that "this is about obeying our nation's law so I would take that very, very seriously."
Just last year, Amos spoke out against lifting the ban, and his reticence reflected a similar unease inside the Marines. According to a Pentagon report from last year on issues related to repealing DADT, Marines were more opposed to open service by gays and lesbians than any other military branch.
Once President Obama signed the repeal into law in December, however, Amos fell in line.
"We will step out smartly to faithfully implement this new law," he says in a video shown in all Marine training sessions. "It is important that we value the diversity of background, culture and skills that all Marines bring to the service of our nation. As we implement repeal, I want leaders at all levels to emphasize the importance of maintaining dignity and respect for one another."
DADT remains on the books for now. The president, the secretary of defense and the Joint Chiefs chairman must certify repeal won't hurt military readiness. Then a 60-day waiting period begins. Only then will the policy end. If all goes as scheduled, that could happen at the beginning of September.
Republicans on the House Armed Services Committee are doing everything they can to stop the clock. Last week, the panel passed an amendment to the defense budget bill that would delay repeal by requiring all four service chiefs to certify the military is ready. The measure stands little chance of surviving in the Democratic-controlled Senate.
Meanwhile, on the same day that HuffPost observed training at Camp LeJeune, controversy raged in Washington over a now-rescinded Navy proposal to allow chaplains to perform same-sex marriages on military bases in states where same-sex marriage is legal.
Even as such political sideshows play out, military leaders are soldiering on to train every service member by the time Defense Secretary Robert Gates -- who has championed an end to DADT -- steps down at the end of June.
So far, training has been a relatively humdrum affair. OutServe, a network of more than 3,200 gays and lesbians currently serving in the military, says training has been a "non-event" for many. The group has been gathering members' responses to the trainings on its message boards and through private communications.
"I initially thought my command would be really homophobic, but I've found it the opposite," wrote one anonymous OutServe member. "My Skipper (gruff O-6) told me this morning -- 'My first troop chief was gay, and he was a mean mother f----r, I don't care if they're gay as long as they can kill people.'"
"We absolutely expect the experiences of these to range from absolutely phenomenal to downright unprofessional, with the ones on that spectrum few and far between," said Alex Nicholson, a former Army interrogator who was discharged under DADT and now heads Servicemembers United.
Nicholson has been allowed to attend several training sessions. "If I had to go out of my way to critique, I'd say they lingered on the HIV issue a little too long -- as if it was a major issue for gay men in the military, which in my experience it is not." He said he witnessed "ignorance on display, but also some enlightenment" in the classes.
"I've seen leadership respond in a way that shuts down the joking" when questions about topics such as cross-dressing were raised, Nicholson said of other sessions. "It really sends a strong message throughout the room."
Then there are sessions like that one in the unauthorized recording provided to HuffPost.
In it, a Marine asks how allowing a gay man to bunk with a straight man is any different than males and females sleeping in the same barracks. Another, citing an experience with a gay Marine at a training base in California, says he is concerned about "peep shows" in the shower. A third wants to know what will be done about male Marines who get breast implants. Some of the questions elicit laughter and snickers. The instructor does his best to answer but at times seems as stumped as his students.
Without sitting in on every training session, it is impossible to gauge the level of professionalism and internalization displayed by commanders and the rank and file. But a survey of OutServe members revealed one in 10 have witnessed training they considered "somewhat unprofessional or very unprofessional."
Sarvis said even a few rogue trainers who don't present the information in an unbiased manner could spell trouble down the road. "If there's a problem in the command on the training," he said, "it's likely that could be a command that will have potentially serious problems on implementation."
Some OutServe members reported their straight colleagues paid little attention to the lesson plan. One reported that in a class of aviators that included more than 100 junior officers, "about 1/4 of the instructor pilots were on their cell phones or doing paperwork. Another 1/4 were shaking their heads with each new slide."
Rebekah, a veteran of two tours in Iraq, was one of several active-duty service members who spoke to HuffPost on condition they be identified only by a pseudonym because they could still be discharged for being openly gay. She said many of her fellow soldiers "aren't really taking [the training] seriously." Although Rebekah said her training session at Fort Hood, Texas, was "to the standard," friends have told her about classes that were not. "They're cracking jokes about it," she said of other soldiers.
A cadet at the U.S. Military Academy at West Point wrote to OutServe of one professor who "just made a total joke out of it. At one point he even said 'these homo ... sexuals.'"
OutServe noted several common threads in reports it received from gay service members.
Many instructors imply that there are no gay people currently in the military. "This seemed to be the rule more than the exception," the group said.
"None of the sessions or training seem to acknowledge that there are gay people serving right now, and quite possibly in the room," one member wrote. "And because none of us can speak up, the discussions are almost always one-sided, usually include some form of ignorance or homophobia, and are not nearly as effective as they could be in bringing about the change in attitude that will eventually be required."
Another West Point cadet said an instructor who made it clear he didn't agree with repeal "made the guys [in class] feel like they could make any comments they wanted. He would be so surprised to know that there were actually gay cadets in the room."
J.D. Smith, the pseudonym of the Air Force officer who co-directs OutServe, said he has gotten other comments from members in the last couple weeks voicing a growing frustration "at not being able to have an open discussion about who they are during the training."
OutServe also picked up numerous instances of what it said came across as a "disclaimer." There seemed to be an attitude of "No need to change your beliefs," rather than, "We will treat everyone equally" the group said.
Several gay troops found that emphasis offensive, especially given that LGBT service members will not officially be treated as a protected class -- as are minorities and women -- and will therefore be ineligible to sue for discrimination.
"Do we not try to change opinions in regards to other equal opportunity issues?" asked one soldier in a comment to OutServe, referring to race and gender. "The training seems to focus on being considerate of the opinions and feelings of straight, bigoted personnel, rather than enforcing respect among all persons."
One Marine echoed several others: "We teach classes in recruit training about our 'core beliefs,' which include equality, opportunity, justice, freedom, etc. Really inspiring stuff. People do change their beliefs when they come in the Marine Corps. You have to believe the Marine next to you will do his job, not just pay lip-service to the idea."
OutServe also heard reports about sympathy and apathy from straight service members in the sessions.
When instructors explained that the federal Defense of Marriage Act will bar the partners of gay service members from receiving medical, housing and other benefits routinely extended to traditional married couples, some straight troops have expressed surprise.
"We are seeing more questions from straight service members who are asking, 'What about my buddy having to leave his partner behind'" when one member of a dual-military gay couple is transferred and the other isn't eligible for a spousal transfer, Smith said. "There has been some pushing back."
Jamison, a married mother of two whose husband is also a Marine, said learning in the class that civilian partners of gay service members, even those in legal marriages, won't be eligible for treatment in military hospitals because of DOMA took her by surprise.
"Medical is medical," she said. "If it's not federally recognized then obviously the military is not going to recognize it as well. But if you have a family and you need medical care, where does that person go?"
Many junior enlisted troops have taken the training in stride.
Lance Cpl. Scott Wyllie, 20, of Westchester County, N.Y., found Kelsay's session "very informative" but said he isn't too concerned about the details of repeal.
"Definitely a lot of younger Marines don't think it's a big deal," Wyllie said. "The younger generation is more [accepting of] homosexuals. I think the older Marines might feel differently than younger Marines, but they'll put those beliefs aside and get the mission done," he said, once repeal becomes law.
For most of the members of the II Marine Expeditionary Force headquarters group sitting in Kelsay's class here, his DADT briefing was a short respite from preparing for deployment to Afghanistan this July. That may help explain why many of the radio and communications specialists appear to have other things on their minds.
The young Marines sit stone-faced with hands folded in their laps. Some hunch over. A few close their eyes. Not one raises a hand to ask a question.
Of the 20 training sessions he's conducted, Kelsay says he's been asked no more than five questions. "I don't want to say there's apprehension" about speaking out, he says. "It's just not a gray area. It's cut and dried as far as what's expected of us as far as our guidelines."
The afternoon session begins with an eye-glazing pre-recorded slide show narrated by alternating male and female voices. When it's finished, Kelsay jostles the group out of their seats. "You all had a big lunch so stand up and shake."
He plows ahead with a pre-selected list of FAQs that he reads from his laptop. He does not stop for questions from the room. He continues through a series of situations that might arise once gays and lesbians are out in the open.
Whether it's two male Marines in civilian clothes kissing in a shopping mall or a lesbian Marine who doesn't get along with her straight roommate, the same standards of conduct apply, Kelsay tells the class.
"Publicly joking about the issue is inappropriate behavior. It would be inappropriate behavior if you just thought the guy was funny looking, right? You can't do that," Kelsay says. "When you take sexual orientation out of all of these examples, we've already got the guidelines in how we're supposed to handle it. Nothing changes except accessions and separations."
He reminds the Marines that there are lots of policies and regulations they may not agree with, "but guess what? As long as we wear this uniform, we'll enforce them correctly. Right?"
"Yes, Sir," the group mumbles.
"Okay, it makes no difference. It makes no difference."
A moment later, he reprises a key point: "You don't have to change your beliefs. You don't have to change your opinions. But you still have to respect the beliefs and opinions of others."
Soon it is time to sum up.
"The bottom line is you're going to treat that Marine to your left and to your right as you would with dignity and respect and you're going to behave in a professional manner and you're going to remember we're all Marines and we will always conduct ourselves as Marines," Kelsay says.
"Do you got any questions? No questions? You're sure? Alright, I appreciate your attention. That concludes our training."