After stumbling upon her grandmother's vintage cocktail accessory known as the Bar Aid, Chicago mixologist Logan Lavachek got an idea.
Lavachek, who bartends at Sepia and Duchamp, decided tackle the 1950's and 1960's-era contraption's 80 cocktail recipes--adding her own twist to each.
"I will singlehandedly re-mix all 80 cocktails not only exactly to the Bar Aid's recipe, but I will research others' recipes and history of such cocktails ... and attempt to come up with my favorite or own personal recipes for many," Lavachek writes in her blog.

Logan Lavachek at Sepia. Photo by Jay Schrader.

Lavachek took advanced classes under nationally-known mixologist Bridget Albert, whizzing her way through an impressive curriculum that included molecular mixology. She hopes to complete the "Bar Aid Project" by the end of the year, and plans to incorporate tips from cocktail legends David Wondrich and Dale DeGroff into the project.

The Bar Aid, previously owned by Lavachek's grandmother, Lowanda Ardell Holman. Photo by Lauren Drell.
So far, she's remixed the Alexander No. 1, Alexander No. 2, Affinity and Adonis, and will happily share the recipes, history and even samples if you show up at the bar and she's not slammed. She also keeps an antique Parisian cigarette case behind the bar when she's working, filled with Pall Malls and 72's, if you're jonesing for a total throwback.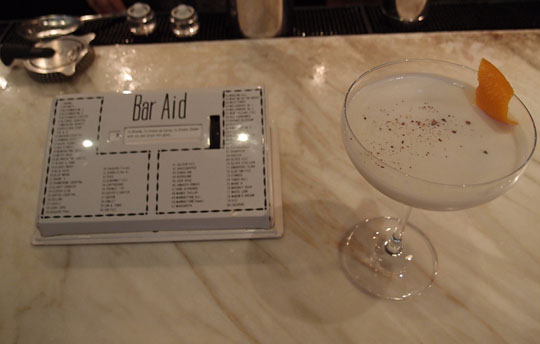 Photo by Lauren Drell.

Rumor has it that Lavachek will be offering mixology classes to cocktail enthusiasts in the near future. Look for those to begin sometime around the end of summer or beginning of fall. Keep up with her progress (and plans) on her blog.