Last week's discovery of a buried cache of weapons, including 154 rifles and shotguns and more than 92,000 rounds of ammunition, was the latest grisly twist in Mexico's ongoing drug war. Sadly, it was by no means the only such find in recent days, with soldiers having previously seized 83 assault rifles and shotguns, five grenade launchers and more than 18,000 bullets as well as hand grenades and 18 pistols following a confrontation with a 17-vehicle convoy of suspected cartel gunmen in the state of Tamaulipas in May, the Associated Press is reporting.
But the drug war has gone beyond those border regions. Until 2006, the city of Acapulco was best known as an international tourism haven, but has also devolved into the epicenter of cartel-driven turmoil as of late.
The following photographs are a small sample of a series shot by Acapulco-based journalist Pedro Pardo. Featured exclusively on LIFE.com, Pardo's shocking images look at Acapulco's drug war-related violence from a unique, firsthand perspective.
Be sure to check out Pardo's eye-opening full gallery on LIFE.com.
Photos and captions courtesy of LIFE.com.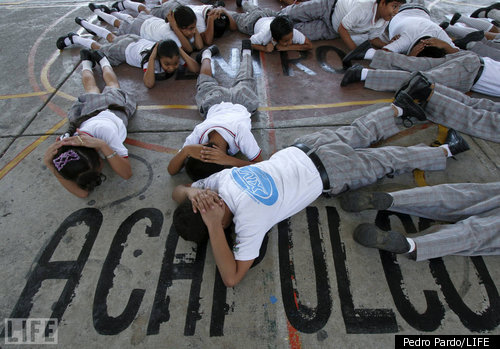 Elementary school students at the Felipe Carrillo Puerto School were being taught by Acapulco's Public Safety Department what to do if they encountered violence when Pardo took this picture on the playground on November 12, 2010. "They were told not to risk their lives, to hit the floor, put their hands behind their neck, avoid being near glass so they wouldn't hurt themselves," he says. "And these school kids were learning all of this on top of a map of Acapulco painted on the schoolyard. That's a very harsh reality."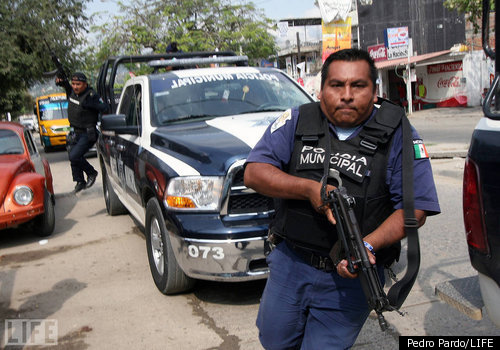 "On the day I took this picture, June 8, 2009, there was a gunfight inside and outside police headquarters in the Emiliano Zapata neighborhood," Pardo told LIFE.com. "Bullets flew everywhere. But we don't have bullet-proof vests. Our only protection is our cameras -- and being careful."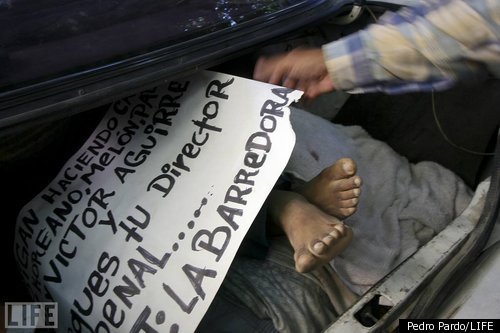 An early morning phone call on Feb. 11, 2011 woke Pardo with a tip that an abandoned taxi with blood dripping from the trunk had been found in Acapulco. He jumped out of bed and onto his motorcycle; by the time he arrived -- still in his pajamas -- local, state and federal policemen, as well as agents from the Mexican army and navy, were on the scene. "Three years ago, you didn't see that kind of presence here," says Pardo. The car was taken to the medical examiner's office where it was finally opened. "I took this picture in three seconds. They opened and shut the trunk immediately," recalls Pardo, who never found out who the men were. "I sent the photo to the agency, and they asked me if I had another shot where you could see more of the sign, but I didn't. It all happened so fast."