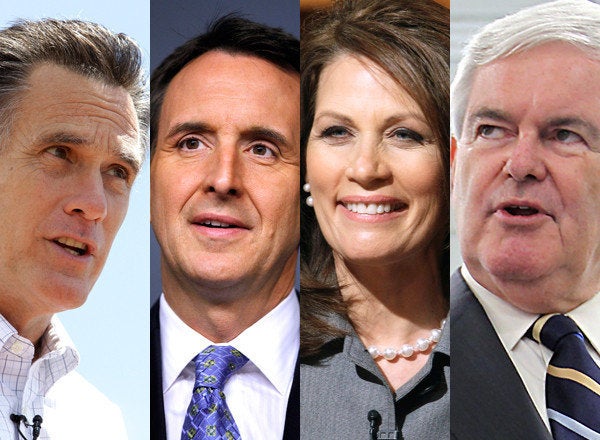 WASHINGTON -- Two months ago, former Minnesota Gov. Tim Pawlenty told reporters during a trip to New Hampshire that he would not criticize other Republican 2012 hopefuls.
"I'm really careful to try to abide by Ronald Reagan's 11th commandment and tell what I believe and what my strengths are and what my vision is for America without trying to attack or directly criticize other Republican candidates," Pawlenty told The Huffington Post. "In the end we're going to have to be a team and we're going to have to unite behind whoever the nominee is," he added. "In terms of being a critic or attacking another Republican, I'm going to try to avoid that."
Pawlenty has thrown those rules out the window over the last few days: He went after former Massachusetts Gov. Mitt Romney, saying President Obama modeled his federal health care overhaul on Romney's 2006 law that mandated coverage for Bay State residents. He called it "ObamneyCare."
"What I don't understand is they both continue to defend it," Pawlenty said on "Fox News Sunday."
In another Fox interview on Friday, Pawlenty made a dig at Rep. Michele Bachmann (R-Minn.).
When he was asked if it bothered him that she was getting lots of attention, he replied, "I'm not speaking about Michele Bachmann here but I'm not running for comedian-in-chief or entertainer-in-chief. You know, if people want to have that be the main consideration, they should go to a Broadway show."
Pawlenty's jabs are a sign that Monday night's New Hampshire debate could produce some fireworks. That potential for conflict, among other factors, will make the debate more closely watched than the first 2012 Republican primary debate, which took place in South Carolina in early May.
Here are five things to watch:
1. How fiercely does Romney come under attack, and how does he handle it?
Pawlenty's comments Sunday on Fox may have been just the opening bid to see which Republican will be Romney's fiercest critic. Romney is likely to face not only tough questions on the health care issue from CNN moderators, but also persistent criticism from his fellow Republicans. What remains to be seen is whether other candidates will again take aim at Romney -- and whether the attacks will stay cerebral or have an edge to them.
It's possible Pawlenty wanted to get his criticism of Romney on the table outside the debate so he could avoid a nasty back-and-forth during the forum. There's also a good chance the Republicans will try to direct most of their fire over health care at President Obama. But in a crowded field, attacking the front-runner is the best way to get attention.
Either way, Romney's campaign will have drilled him on his responses. He is leading in the polls and could benefit from the appearance of being the moderate candidate on a stage full of hard-line conservatives. Based on Romney's defense of his health care plan and his more recent remark that global warming is real, moderateness appears to be one of Romney's top goals in the primary, though many question the wisdom of such a strategy when the conservative grassroots is clamoring for orthodoxy.
Regardless, Romney will have to be careful not go grow defensive. If two or more of his fellow Republicans gang up on him, Romney's response will determine how cool he looks under pressure.
2. Can Tim Pawlenty distinguish himself?
Pawlenty had the stage essentially to himself at the first debate in South Carolina last month, with four other lesser-regarded Republicans taking part. But he still didn't punch through. This time, he'll have to deal with a few other big names that weren't there before: Romney, former House Speaker Newt Gingrich, and Michele Bachmann. Pawlenty's decision to cast aside his previous vows of nonaggression is a sign he's going to go on the attack Monday night.
He's had a good couple weeks. His campaign roll out garnered praise for taking on "sacred cows": ethanol in Iowa, entitlements in Florida, tax loopholes on Wall Street. Reaction to his economic speech in Chicago last week has been warm.
Yet no matter how well Pawlenty does, some on the right will still be clamoring for those who were not on stage: former U.S. Ambassador to China Jon Huntsman, who has all but declared his candidacy still declined to take part, Texas Gov. Rick Perry, New Jersey Gov. Chris Christie, and former Alaska Gov. Sarah Palin. Pawlenty's task will be to impress those dissatisfied conservatives and convince them he's a good enough alternative to Romney to win the primary and the general election against Obama.
3. How does Newt Gingrich handle himself, given the set-backs to his campaign?
Gingrich is a joke to many now that the majority of his campaign staff, including his top aides and advisers, quit on Friday. The mass exodus came days after Gingrich returned from a cruise to the Mediterranean with his wife,Callista -- the former staffers cited Gingrich's unwillingness to put in enough time to the campaign.
But Gingrich appears intent on forging ahead in the race for the time being. Debates play to his strengths as an intellectual. If he carries himself well, scores a few points and has a good night, Gingrich could quiet speculation that he will withdraw from the campaign, at least for another three weeks or so, until second quarter fundraising totals are released.
But if he sticks his foot in his mouth, as he already has on more than one occasion in this still young primary, the drumbeat for his departure could intensify. It's not clear whether Gingrich has any staff to prep him for the debate, which may increase his chances of veering off course. Politico reported Monday morning that Gingrich is sending his daughters Jackie Cushman and Kathy Lubbers to the "spin room" after the debate to defend his performance.
4. Does Michele Bachmann steal the show?
Bachmann, the Minnesota representative, is the third big name that we've yet to see in a debate this cycle. But unlike the other Romney and Gingrich, it's her first big-time debate ever.
The Tea Party phenom has the potential to steal thunder, especially from Pawlenty. And of all the candidates on stage -- and Bachmann has not yet officially declared -- she could be the one who hits Romney the hardest for his health care plan.
It will also be interesting to see if she expands on the lack of enthusiasm about Pawlenty evident in her answer to the Wall Street Journal when asked if he was a good governor of her state.
"I really don't want to comment," she said.
She may also be asked about a remark by one of her top strategists, Ed Rollins, who said Bachmann would be "so much more substantive" than Sarah Palin, if the former Alaska governor were to run for president.
Bachmann has a knack for staying on message, and Rollins' comment played into an image she has tried to shape over the last few months as a more intellectually rigorous female conservative superstar than Palin. The former tax attorney knows policy, and can also whip a Tea Party crowd into a frenzy. If she performs well, this debate could launch her to the top of the race. She likely has the most to gain Monday night.
5. Do the candidates embrace the Ryan budget? Or do they try to change the subject?
A few Republicans think the party should run against Obama on Medicare. Most seem to be queasy at the thought. Republicans in Congress are nervous about the political impact of Rep. Paul Ryan's (R-Wis.) budget proposal, which includes a plan to overhaul Medicare. Liberal and White House-affiliated groups are running TV ads during the debate to make sure the Ryan plan is front and center in voters' minds. And the candidates are sure to get plenty of questions about it.
All the candidates will give perfunctory praise to Ryan for proposing a budget plan, and they will criticize Obama for not having a proposal of his own to shore up Medicare. But more interesting to see will be which Republicans give a full-throated endorsement to the plan, going into detail about the problem and how Ryan's plan is a good solution, and which ones try to change the subject. Some will move quickly to talking about jobs.
How the discussion of Ryan's Medicare plan shakes out will have an impact on the discussion in Washington. It will determine whether the GOP decides to take on Obama and his allies directly on Medicare, or whether their ship starts showing signs of retreat. There is disagreement in the party over which route is the right one. Monday's debate could increase and magnify that division, even each candidate handles the Ryan plan in the same way.
Other candidates taking part Monday will be former Godfathers Pizza CEO Herman Cain, who has made a surge in the polls of late, former Sen. Rick Santorum (R-Pa.) and Rep. Ron Paul (R-Tex.).