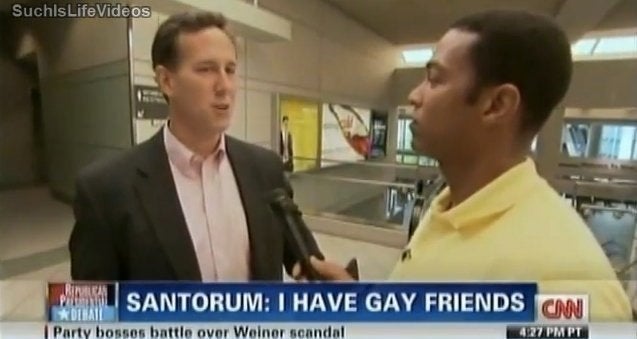 CNN's Don Lemon asked Republican presidential candidate if he has any gay friends on Monday.
Lemon, who publicly revealed he is gay in May, was speaking to Santorum in New Hampshire ahead of CNN's GOP debate on Monday night. Santorum is well known for his social conservatism and his opposition to gay rights. In fact, he is perhaps most famous for the vehemently anti-gay marriage comments he made in 2004 that resulted in his notorious "Google problem."
Lemon asked how Santorum could be for small government and a ban on gay marriage at the same time. "Some people see that as government intervening on people's rights," he said. Santorum said he was merely trying to enshrine what was already in many state constitutions.
Lemon then said that he had recently been on a show where Santorum had been called bigoted for his views on gay rights.
"I have a difference of agreement on a public policy issue," Santorum said. "That doesn't mean I'm, you know, I hate anybody. I don't hate anybody."
"Do you have any gay friends?" Lemon asked. "Yeah," Santorum said. "In fact I've had gay people work for me."
"Yeah. And friends?" Lemon asked again. "Yes!" Santorum insisted.
"You know, when people say I have black friends," Lemon persisted.
"I was with a gay friend of mine just two days ago," Santorum said. "I mean, so, yeah, I do."
"You know that's a headline: Rick Santorum has gay friends," Lemon said, perhaps not knowing that the interview would later run with the chyron SANTORUM: I HAVE GAY FRIENDS underneath it. "It shouldn't be," Santorum said. "I don't know what the shock value is."
WATCH: